Time once again for Gaijin Gourmet. Today's episode is the definitive episode for people on a budget in Tokyo who want to eat healthy and safe food and love noodles – and draft beer for super cheap (read on!)
Today's post is about what I think is the best soba restaurant chain in Tokyo. It is a Soba restaurant chain that is all over Tokyo and, in my expert opinion, blows away the competition when it comes to price, quality, taste and cleanliness; Yude Taro (ゆで太郎). Yude Taro has, hands down, the best inexpensive and delicious noodles.
There are other chains that have a similar menu as Yude Taro and might be ¥10 ~ ¥30 cheaper ($0.10 ~ $0.30 USD) per dish, but they can't touch the taste and food quality. Here I am specifically talking about the big soba chains in Tokyo: Fuji Soba and Yoshi Soba, etc., .. Folks, Yude Taro beats them all hands down.
Here is the Yude Taro near Yoyogi station that I go to often. But, you can just look for this blue logo:
What does "Yude Taro" mean? Well, Taro is the most common boy's name in Japan. "Yude" means "boiled." So, "Yude Taro" means something like "Boiled John" or David or Mike….
Here's their menu that I screen captured from their webpage: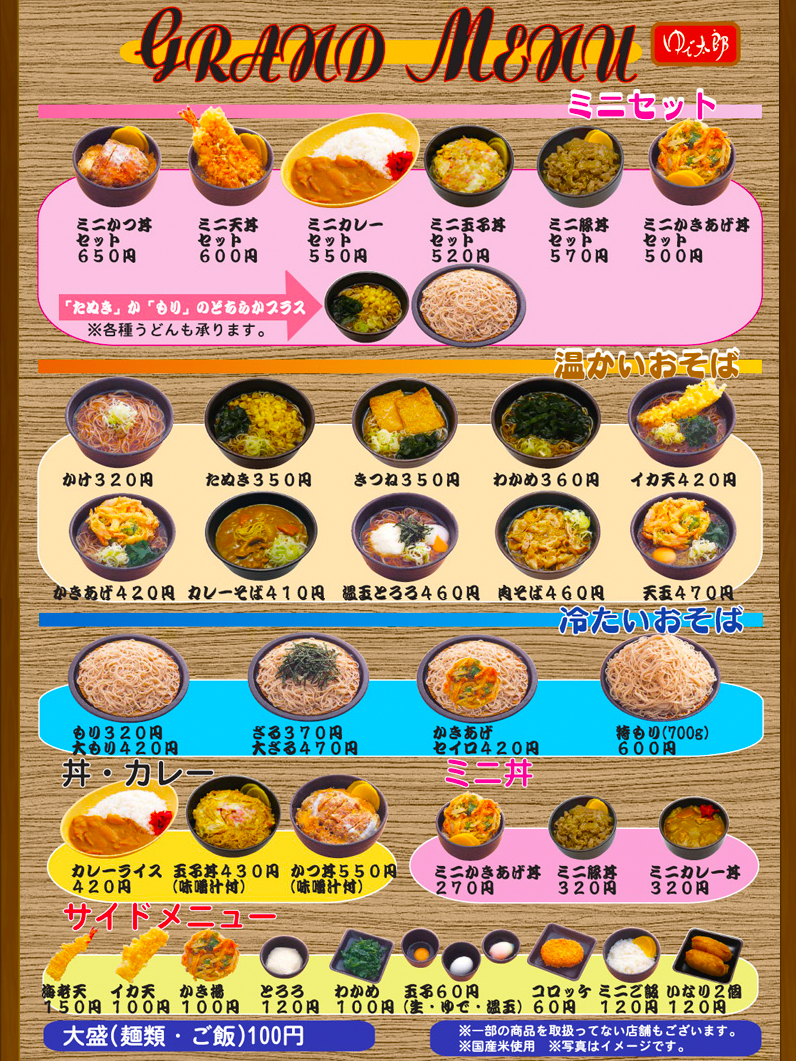 As you can see, most bowls of soba items on the menu are under ¥500 (about $4 USD). If you want a little more, the highest priced set on the entire menu is a fried pork cutlet on rice along with a bowl of soba (top left hand corner photo) at ¥650 (about $5.42 USD). Really, I've eaten 1000 times at these stand up soba shops over these last three decades. Yude Taro is the best.
And you can't read the menu? It doesn't really matter as you can see the pictures on the meal ticket machine at every shop.
There's tens of thousands of these stand-up soba shops in Tokyo. They all have a glass case in front showing the main menu; but just look for the one with the blue logo. Usually, these places are in front of the big train stations and you can find a few competing chains right by each other.
The Yude Taro I go to has a very large eating area and even seating enough for about 14 people. Don't even bother going there between 12 noon to 1:00 pm or so. This particular Yude Taro can seat 14, but during the lunch time rush, I've been in there when there were more than 25 people eating and another 20 people standing in line. It's OK, though, because most of the time, you can be in and out of a Yude Taro in 10 minutes so it's a great deal for the person on the go and on a budget.
The noodles are best at all the chains here at Yude Taro because they make the noodles on the premises and then boil. Most of the other chains open a plastic pack with noodles and heat them up. As you know, there's no way a packaged refrigerated item can beat the taste of a freshly cooked one.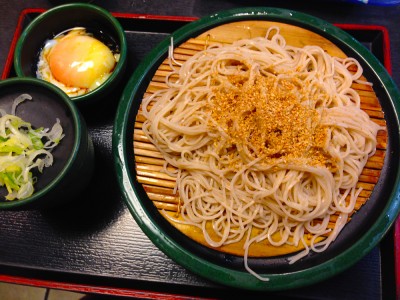 This is medium sized soba with a softly boiled egg. ¥470 (about $3.91)… And, as you know, this is Japan so there is no tipping.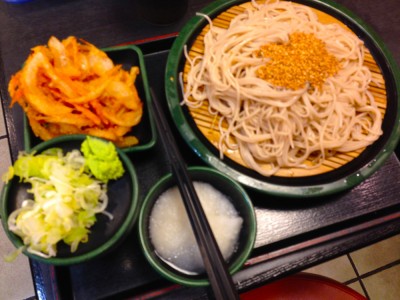 I eat the medium soba, ¥420 (about $3.50) with the fried veggies ¥100 (about $0.83) and grated radish ¥100 (about $0.83). I get a full stomach and the total damages are about 15 minutes at lunch and about $5.16 (USD). What a GREAT deal!
BUT WAIT! WHAT'S THIS???? DRAFT BEER FOR ¥220!???? That's right! Yude Taro is running a summer 2015 campaign and is offering draft Sapporo Black Label draft beer for  ¥220 (about $1.83 USD) a glass? That's cheaper per drink than buying a can of beer at the convenience store! AMAZING.
Most cheaper drinking establishments charge twice that price for a draft beer!
Yude Taro wins the soba wars. Just look for the blue logo I have shown at the top of this article. Yude Taro is so good that I can honestly say that, if I really had to, I could eat there three meals a days. It's that good.
——————–
Looking for more great deals on cheap eats in Japan?:
Gaijin Gourmet: The Best Premium Salad Bar in Tokyo? – Sizzler in Setagaya robot55.jp/blog/gaijin-gourmet-the-best-premium-salad-bar-in-tokyo-sizzler-in-setagaya/
Gaijin Gourmet! Great Cheap and Delicious Soba in Gaienmae on Ginza Line! robot55.jp/blog/gaijin-gourmet-great-cheap-and-delicious-soba-in-gaienmae-on-ginza-line/
The Gaijin Gourmet: The Best Salad Bar Deal in Tokyo at Big Boy – My Favorite Rock N Roll Diner!! robot55.jp/blog/the-gaijin-gourmet-the-best-salad-bar-deal-in-tokyo-at-big-boy-my-favorite-rock-n-roll-diner/
Tokyo's Best Cheap Sushi is in Okachimachi!? 東京の一番安くて美味しい寿司屋?御徒町にあるの? http://robot55.jp/blog/tokyos-best-cheap-sushi-in-okachimachi/
The Gaijin Gourmet: Soba Wars At Hanzomon Station in Tokyo robot55.jp/blog/gaijin-gourmet-soba-wars-at-hanzomon-station-in-tokyo/
———————-
At Robot55 we make video productions for businesses and services and products, but we also pride ourselves on making videos for art and music. Our starting price is ¥70,000 and we are sure we can work out something that fits your budget. Oh, and we love making band videos too! Contact us! contact@robot55.jp
ROBOT55 はビジネス、商業、製品紹介動画の制作のみならず、アートや音楽の映像も創っております。ビジネス動画においてはウェブ動画時代の到来に合わせ、お求めや すい¥70,000という格安価格より承ります。ご予算に応じて皆様にご満足のいく高品質動画を制作致します。勿論インディー・バンド向けPV制作も行っ ております。よ!
コチラよりお気軽にお問い合わせ下さいませ♬
————————-
Gaijin Gourmet, ビ デオ編集格安、ビデオ撮影格安、動画制作東京、格安ビデオ制作, 格安, ロボット・ゴー・ゴー,  格安, ビジネスビデオ制作, ロボット・ゴー・ゴー, Delicious places to eat in Tokyo, Cheap places to eat in Tokyo, Healthy, cheap, inexpensive food, tokyo dining