Ladies! Read this article to learn how you, too, can get a boyfriend or husband that looks almost exactly like a famous Hollywood Superstar Actor!
Welcome, ladies, once again to another episode of the Gaijin Gourmet ®.
Recently, here at the Ippin offices, we have been getting lots of complaints from readers that the Gaijin Gourmet ® columns do not talk enough about delicious food and drinks but is always just looking for a easy and cheap laugh out of the reader.
Due to the vast number of written complaints from you, dear reader, we have decided that we are going to make sure that the Gaijin Gourmet ® columns are always useful to you Beautiful Japanese Ladies ® by starting absolutely FREE English lessons just for you!
In this absolutely FREE English lesson course, you'll learn useful phrases such as:
"Good evening. Thank you for inviting me to the Queen of England's Royal party."
"Yes. That is my Bentley car parked out front. Are you the new driver?"
"Oh, no… You must have me mistaken for someone else. I'm not a famous actress… yet!"
What? You have never heard the term, 'Beer Goggles'? Really?
Oh, my dear ladies! You need to know this term! It is very important and a widely used term all over English speaking countries. Everyone in the west uses the term 'Beer Goggles!'
Dictionary:
Beer (noun) \ˈbir\ : an alcoholic drink made from malt and flavored with hops.
Goggles (noun) plural gog·gles \ˈgä-gəlz\ : special eyeglasses that are worn to protect your eyes.
We say, 'Beer Goggles' but it doesn't only happen with beer drinking, any alcohol will do; beer, bourbon, sho-chu, sake, wine, Happo-shu… You name it; if you drink enough of ANY liquor, you will get 'Beer Goggles.'
What is 'Beer Goggles'?
'Beer Goggles' means that as you drink and drink and drink some more, the world and other people become more beautiful and handsome… They really do! Really!
'Beer Goggles' is usually a term associated with men drinking too much. But, in this modern day and age, we cannot have sex discrimination! No! No! No! I say, "'Beer Goggles' for women too!" Power to the people!
Science has proven that 'Beer Goggles' is a true phenomenon. Here, please look at this chart: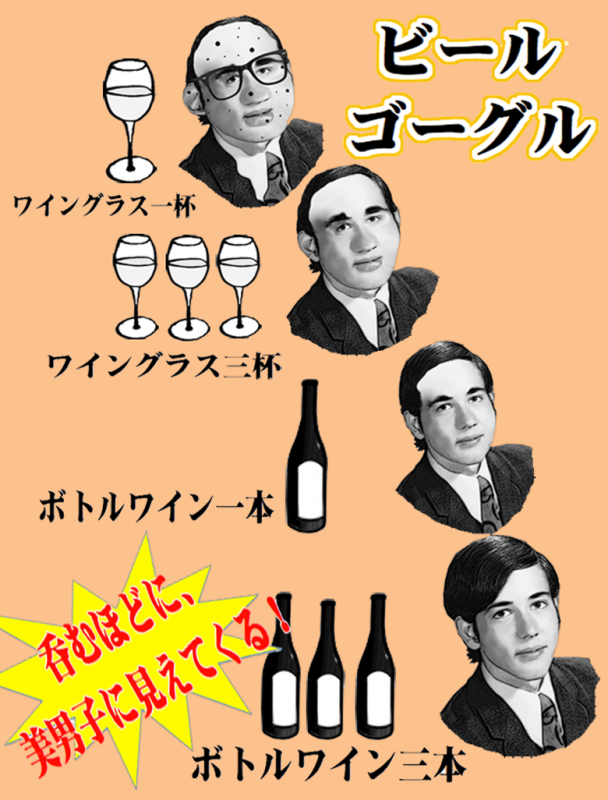 (Chart showing effect of "Beer Goggles." Top left to bottom right: What an old, balding guy looks like after 1 glass of wine. Then what he looks like after three glasses of wine. One bottle of wine? OK, maybe he is slightly acceptable to take home to mother (as long as he gets paid a lot!) Bottom right? Wow! See what the exact same balding old man looks like after only three bottles of wine!)
With this chart you can see that it is true; the more you drink, the better everything in the world looks! See? Just look at how handsome several bottles of wine make that old balding man look! Wow!
Now all you wonderful ladies can see how you, too, can get a boyfriend or a husband that looks almost exactly like handsome Hollywood superstar, Brad Pitt!
Hooray!
But there is one drawback to this 'Beer Goggle' (Handsome young boyfriend) plan: you'll have to be drinking at least 3 bottles of wine a day, everyday! But it's worth it if your boyfriend or husband looks like Brad Pitt, isn't it?
But it can get expensive, though… Unless you know the best, most delicious drinks for the cheapest price! What I mean to say is that you can drink three bottles of wine a day, everyday as long as your wine has excellent cost performance; delicious and inexpensive.
And that's the area where the Gaijin Gourmet ® is the top leading イケメン外人® expert for cost performance in all of Asia! No! Japan! No! Tokyo! Minami Kita-Senju! (a small Tokyo neighborhood!)
Yes!
And that's why today I am recommending Cono Sur wine from Chile. Cono Sur is 100% completely organic wine using organic grapes and it has been given certified organic certification from the agency with the most stringent standards in the world, "Germany BCS Eco."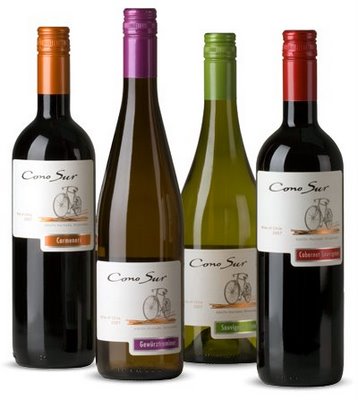 Cono Sur winery is a single vineyard in Chile that has more than 100 years of experience making wine. Cono Sur Vineyards & Winery was founded in 1993, and produces premium, expressive and innovative wines – at a very affordable price. The name Cono Sur refers to the company's geographic position, representing wines made in South America's Southern Cone, on whose western edge lies the nation of Chile and its superb wine valleys. The logo for Cono Sur is a hand-drawn bicycle, so it's easy to recognize.
The Cono Sur winery is original and the fertile land it sits upon was a riverbed long ago. The climate is mild and so the wines are very robust and full of fruit, which makes Cono Sur wines all have quite elegant taste.
Actually, I was first introduced to Cono Sur wines by my multi-millionaire friend who told me, "You don't have to spend a lot of money to get some great wines… Especially from Chile!" He told me about Cono Sur wines.
And you ladies can find it and will be quite pleased at the incredibly reasonable price and great taste… It's the next best thing to actually drinking wine and romancing with the real Fukuyama Masaharu!
You ladies can thank me later.
———————————–
Looking for a delicious healthy meal in Tokyo, the world's most expensive and crowded city for under $5 (USD)? Here's a bunch of them linked below!
Gaijin Gourmet – Delicious, Healthy Meal in Tokyo for Under $3 (USD) – Yoshi Soba! robot55.jp/blog/gaijin-gourmet-delicious-healthy-meal-in-tokyo-for-under-3-usd-yoshi-soba/
Gaijin Gourmet – Delicious, Healthy Meal in Tokyo for Under $3 (USD) – Komoro Soba! robot55.jp/blog/gaijin-gourmet-delicious-healthy-meal-in-tokyo-for-under-3-usd-komoro-soba/
Gaijin Gourmet – Fuji Soba Tokyo's Top 3 Soba Chain Restaurants robot55.jp/blog/gaijin-gourmet-fuji-soba-tokyos-top-3-soba-chain-restaurants/
Gaijin Gourmet: 「モンスターMOGULLA!東京の地下からこんにちは」 robot55.jp/blog/gaijin-gourmet-「モンスターmogulla!東京の地下からこんにちは/
マイク・ロジャース!「ザ・外人グルメ」!のぐるなび ippin(イッピン)の新しい記事がアップされました!robot55.jp/blog/マイク・ロジャース「ザ・外人グルメ」!のぐる/
Gaijin Gourmet! The Best, Most Delicious Soba Restaurant in Shibuya and Shinjuku robot55.jp/blog/gaijin-gourmet-the-best-most-delicious-soba-restaurant-in-shibuya-and-shinjuku/
Gaijin Gourmet – Hamazushi! Tokyo's Best Robot Sushi! robot55.jp/blog/gaijin-gourmet-hamazushi-tokyos-best-robot-sushi/
Gaijin Gourmet – Sukiya! Japan's Best Gyudon (Beef Bowl) robot55.jp/blog/gaijin-gourmet-sukiya-japans-best-gyudon-beef-bowl/
Gaijin Gourmet Advice for Foreign Gentlemen Living in Japan!
http://robot55.jp/blog/gaijin-gourmet-advice-for-foreign-gentlemen-living-in-japan/
Gaijin Gourmet – Best Soba Chain in Tokyo?Yude Taro and ¥220 Draft Beer?! robot55.jp/blog/gaijin-gourmet-best-soba-chain-in-tokyo?yude-taro-and-¥220-draft-beer/
Gaijin Gourmet: The Best Premium Salad Bar in Tokyo? – Sizzler in Setagaya robot55.jp/blog/gaijin-gourmet-the-best-premium-salad-bar-in-tokyo-sizzler-in-setagaya/
Gaijin Gourmet! Great Cheap and Delicious Soba in Gaienmae on Ginza Line! robot55.jp/blog/gaijin-gourmet-great-cheap-and-delicious-soba-in-gaienmae-on-ginza-line/
The Gaijin Gourmet: The Best Salad Bar Deal in Tokyo at Big Boy – My Favorite Rock N Roll Diner!! robot55.jp/blog/the-gaijin-gourmet-the-best-salad-bar-deal-in-tokyo-at-big-boy-my-favorite-rock-n-roll-diner/
Tokyo's Best Cheap Sushi is in Okachimachi!? 東京の一番安くて美味しい寿司屋?御徒町にあるの? http://robot55.jp/blog/tokyos-best-cheap-sushi-in-okachimachi/
The Gaijin Gourmet: Soba Wars At Hanzomon Station in Tokyo robot55.jp/blog/gaijin-gourmet-soba-wars-at-hanzomon-station-in-tokyo/
———————-
At Robot55 we make video productions for businesses and services and products, but we also pride ourselves on making videos for art and music. Our starting price is ¥70,000 and we are sure we can work out something that fits your budget. Oh, and we love making band videos too! Contact us! contact@robot55.jp
ROBOT55 はビジネス、商業、製品紹介動画の制作のみならず、アートや音楽の映像も創っております。ビジネス動画においてはウェブ動画時代の到来に合わせ、お求めや すい¥70,000という格安価格より承ります。ご予算に応じて皆様にご満足のいく高品質動画を制作致します。勿論インディー・バンド向けPV制作も行っ ております。よ!
コチラよりお気軽にお問い合わせ下さいませ♬
————————-
ザ・外人グルメ, budget, budget dining Tokyo, cheap, Cheap places to eat in Tokyo, delicious, Delicious places to eat in Tokyo, english language video, english video production, Gaijin Gourmet, healthy, inexpensive food, professional, Tokyo dining, ザ・外人グルメ, ビジネスビデオ制作, ビデオ編集格安、ビデオ撮影格安、動画制作東京、格安ビデオ制作, ロボット・ゴー・ゴー, 動画, 動画制作, 動画制作 東京, 動画制作、格安動画制作、ビデオ制作, 動画広告, 広告動画, 格安, 短編映画, 英語のビデオ制作