I found the best tasting ramen for the best price in Futakotamagawa. It's a shop called Kokumaro and it is the most delicious and reasonably priced ramen in town.
Hello! My name is Mike (in Tokyo) Rogers and I am the Gaijin Gourmet!
Futakotamagawa is about 10 ~ 15 minutes from Shibuya station on the Den-en-toshi line. It is famous for Takashimaya department store and a bunch of other high class shopping establishments as well as the headquarters of online shopping giant, Rakuten.
Since this is a high class shopping area, nearly all of the restaurants are expensive; and filled with rich housewives. That's why a find like Kokumaro is a lifesaver for the Gaijin Gourmet who is always watching for ¥1 coins on the ground at the train stations! Nearly all of the local ramen shops sell their lowest priced ramen for at least ¥760. There's a few places that sell so-called "Gourmet ramen" that goes for ¥1000 ~ ¥1200 a bowl.
Kokumaro starts at ¥600. By far the best tasting ramen for the price in this town.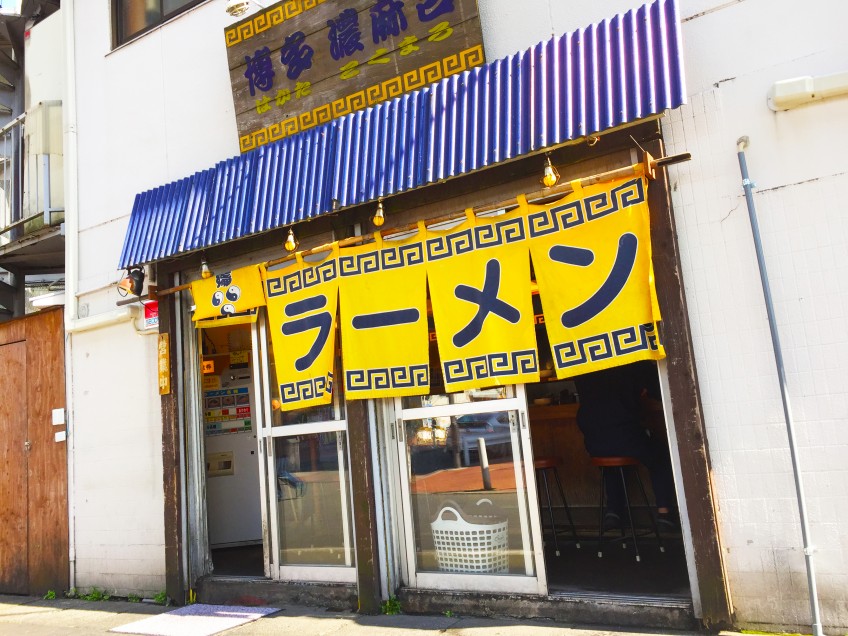 Outside of Kokumaro just after opening at 11:00 am. This place gets packed and there's a line of people there waiting to get in at all hours of the day. Kokumaro is a chain of restaurants and they have shops in Futakotamagawa, Shibuya, Kabukiocho and a bunch of shops in their homeland of Kyushu. See there homepage here: http://www.kokumaro.com/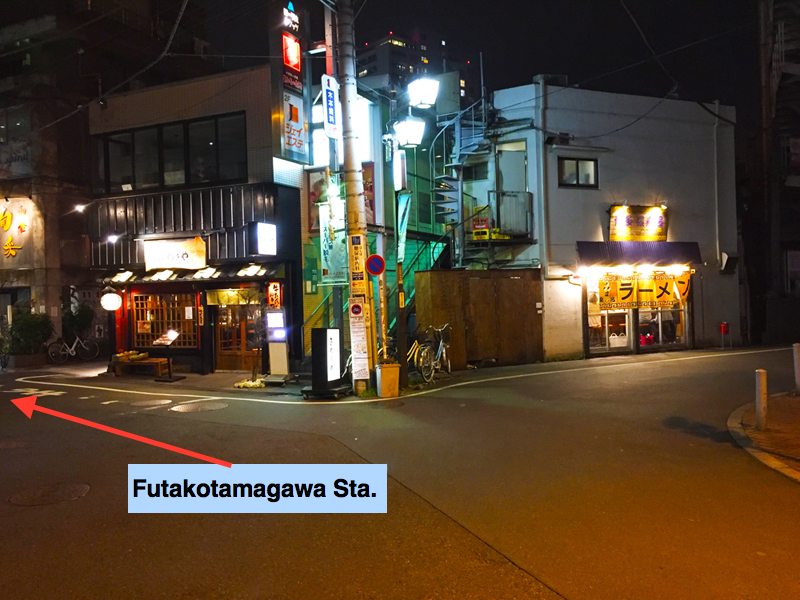 This is what it looks like at night. The one to the right. The shop to the left is some high-falutin' dinery. Never been there… It is expensive. Of course expensive restaurants are supposed to taste delicious. The problem is that many of them are just expenisve and not so delicious. It is a fine art for the Gaijin Gourmet to find the Holy Grail! I like cheap and delicious establishments!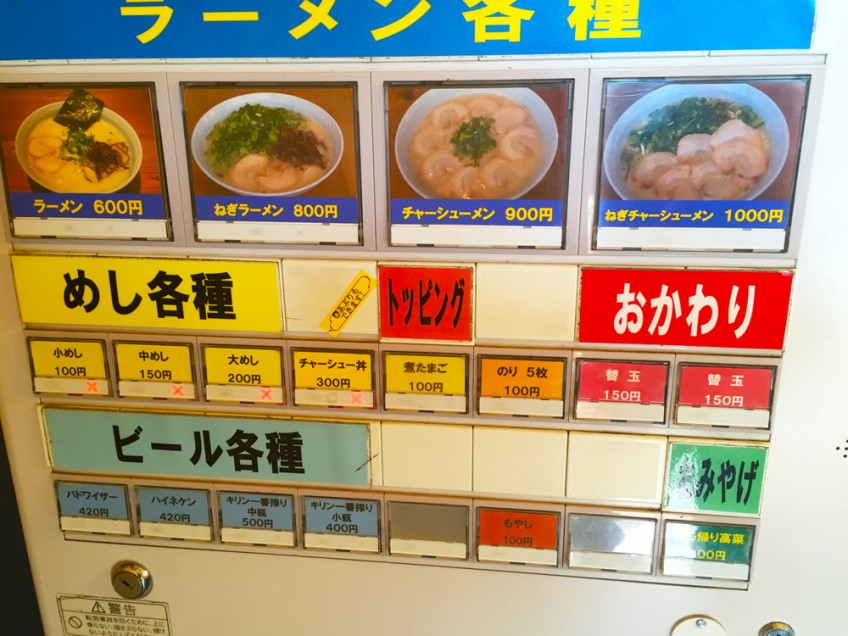 And speaking of cheap and delicious, when you go into Kokumaro at Futakotamagawa, you will be immediately confronted by Mr. Meal Ticket-Machine. Not to worry. Follow the easy instructions: Look at picture. Insert money. Press button. Take ticket. give ticket to shop staff. Sit down. Eat.
It's so simple a chimpanzee was able to complete the task in 6 seconds.
If you want a beer to drink, just say, "Beer?" the staff and they will help you press the correct button.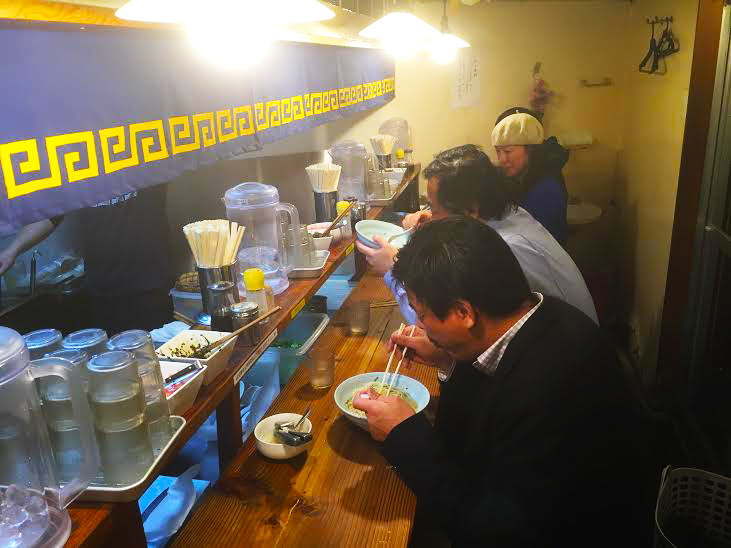 Like I said, Kokumaro in Futakotamagawa is always packed and, there is almost always a line of at least 3 ~ 10 people waiting to get in. The place is cozy and clean.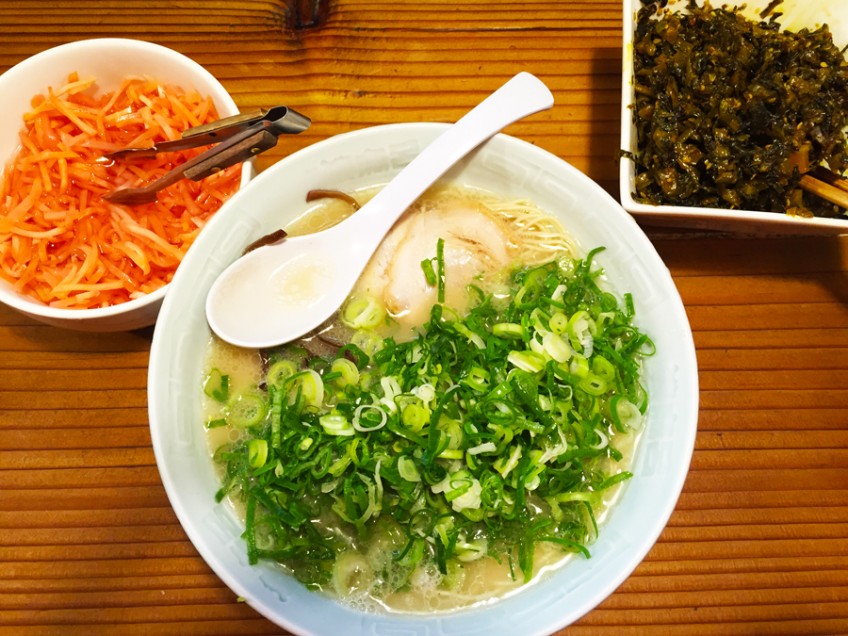 Here is what I always have. It's the regular ramen with extra mountains of sliced green onions. Cost? ¥800! (with tax!) Wow! At the top left is Beni-shoga (pickled ginger root). Top right is Takana (hot & spicy leafy vegetables that originally came from China). And now we get to why Kokumaro is always packed and there's always a line outside: Not only is it cheap and delicious, but you can add the condiments like Beni-shoga or Takana all you want…. And!….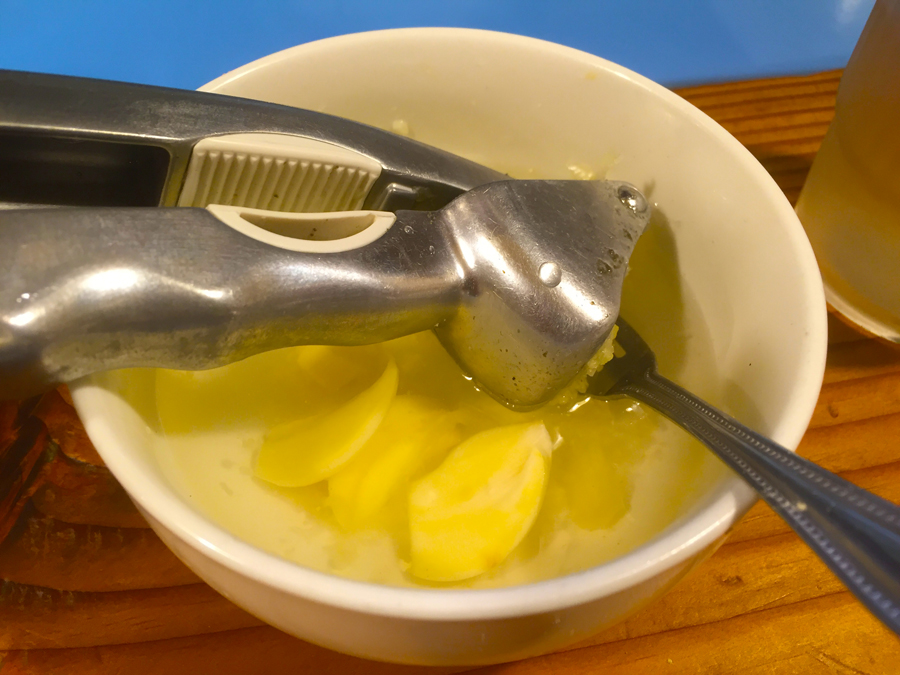 The plat de résistance! The deal clincher! Fresh garlic and a garlic press at the counter that you can add as much healthy and fresh, raw and delicious garlic as you want. Oh my god! I am in heaven! Usually ramen shops have already crushed garlic in small bins, but those have preservatives in them. This is the real (raw) deal!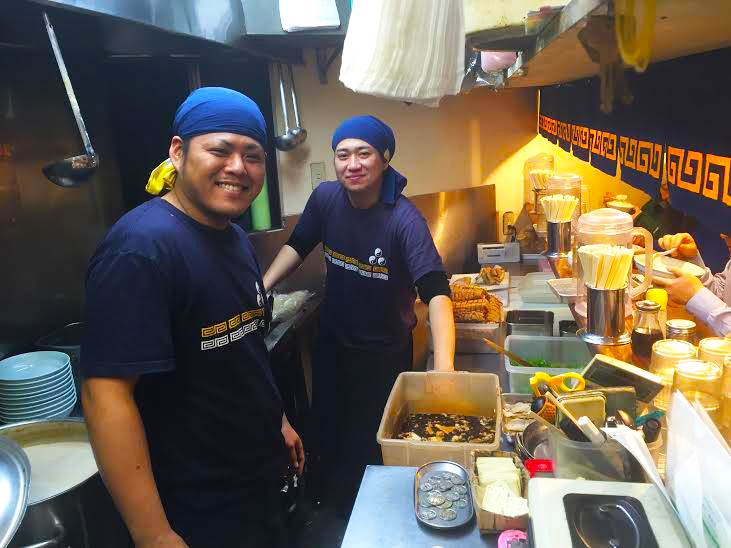 Of course, the Gaijin Gourmet insists upon a spic and span, clean kitchen. Kokumaro in Futakotamagawa has it as well as friendly staff. On the right is the manager of the Futakotamagawa branch, Morita san! (If you go there, tell him Mike sent you!) This guy is great. He and his staff work hard to make sure that you get the best ramen in town… And they do it with a smile and they do it every night! Bravo! Well done Morita san!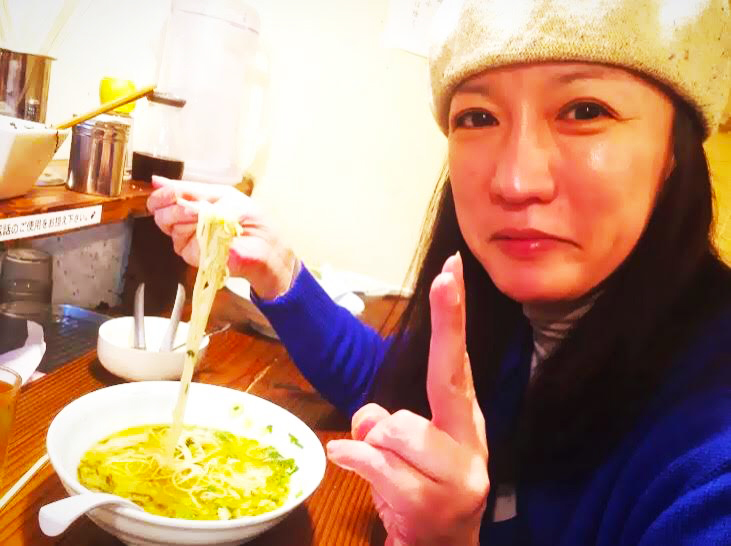 Even the ladies love Kokumaro Futakotamagawa. All the locals know this ramen shop and it has the reputation for the best ramen and best ramen deal in town! Here's Ayako giving rave reviews for the taste!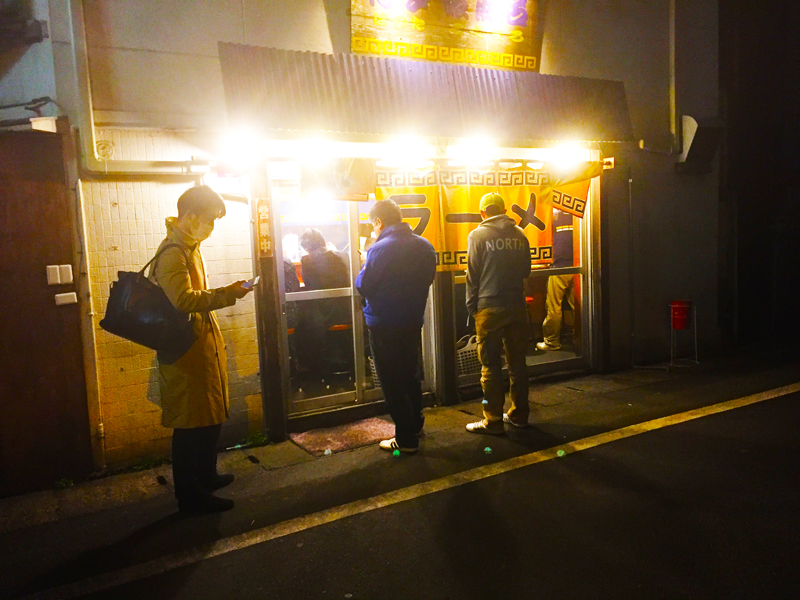 This photo was taken at about 1:30 am the other day. Look at that! Inside the place is packed and, like I said, there are always people waiting to get in. Oh, by the way, even if you have to wait, it's only a few minutes and well worth it.
Kokumaro Ramen at Futakotamagawa? 5 + Stars for value, volume of servings, service, friendly staff and great taste!
Futakotamagawa Kokumaro Ramen  3-14-6 Tamagawa, Setagaya-Ku, Tokyo 158-0094
Tel 03-3708-2790
Business Hours: 11:00 am ~ 2 am.
〒158−0094東京都世田谷区玉川3−14−6
I like this place so much I even made a map for you!
——————————–
Looking for great deals on cheap eats in Japan?:
Gaijin Gourmet! The Best, Most Delicious Soba Restaurant in Shibuya and Shinjuku robot55.jp/blog/gaijin-gourmet-the-best-most-delicious-soba-restaurant-in-shibuya-and-shinjuku/
Gaijin Gourmet – Hamazushi! Tokyo's Best Robot Sushi! robot55.jp/blog/gaijin-gourmet-hamazushi-tokyos-best-robot-sushi/
Gaijin Gourmet – Sukiya! Japan's Best Gyudon (Beef Bowl) robot55.jp/blog/gaijin-gourmet-sukiya-japans-best-gyudon-beef-bowl/
Gaijin Gourmet Advice for Foreign Gentlemen Living in Japan!
Gaijin Gourmet Advice for Foreign Gentlemen Living in Japan!
Gaijin Gourmet – Best Soba Chain in Tokyo?Yude Taro and ¥220 Draft Beer?! robot55.jp/blog/gaijin-gourmet-best-soba-chain-in-tokyo?yude-taro-and-¥220-draft-beer/
Gaijin Gourmet: The Best Premium Salad Bar in Tokyo? – Sizzler in Setagaya robot55.jp/blog/gaijin-gourmet-the-best-premium-salad-bar-in-tokyo-sizzler-in-setagaya/
Gaijin Gourmet! Great Cheap and Delicious Soba in Gaienmae on Ginza Line! robot55.jp/blog/gaijin-gourmet-great-cheap-and-delicious-soba-in-gaienmae-on-ginza-line/
The Gaijin Gourmet: The Best Salad Bar Deal in Tokyo at Big Boy – My Favorite Rock N Roll Diner!! robot55.jp/blog/the-gaijin-gourmet-the-best-salad-bar-deal-in-tokyo-at-big-boy-my-favorite-rock-n-roll-diner/
Tokyo's Best Cheap Sushi is in Okachimachi!? 東京の一番安くて美味しい寿司屋?御徒町にあるの? http://robot55.jp/blog/tokyos-best-cheap-sushi-in-okachimachi/
Gaijin Gourmet – Beware! The Worst Noodle Restaurant in Tokyo? robot55.jp/blog/gaijin-gourmet-beware-the-worst-noodle-restaurants-in-tokyo/
The Gaijin Gourmet: Soba Wars At Hanzomon Station in Tokyo robot55.jp/blog/gaijin-gourmet-soba-wars-at-hanzomon-station-in-tokyo/
———————-
At Robot55 we make video productions for businesses and services and products, but we also pride ourselves on making videos for art and music. Our starting price is ¥70,000 and we are sure we can work out something that fits your budget. Oh, and we love making band videos too! Contact us! contact@robot55.jp
ROBOT55 はビジネス、商業、製品紹介動画の制作のみならず、アートや音楽の映像も創っております。ビジネス動画においてはウェブ動画時代の到来に合わせ、お求めや すい¥70,000という格安価格より承ります。ご予算に応じて皆様にご満足のいく高品質動画を制作致します。勿論インディー・バンド向けPV制作も行っ ております。よ!
コチラよりお気軽にお問い合わせ下さいませ♬
————————-
Gaijin Gourmet, budget dining Tokyo, ビデオ編集格安、ビデオ撮影格安、動画制作東京、格安ビデオ制作, 格安, ロボット・ゴー・ゴー,  格安, ビジネスビデオ制作, ロボット・ゴー・ゴー, Gaijin Gourmet, Delicious places to eat in Tokyo, Cheap places to eat in Tokyo, Healthy, cheap, inexpensive food, Tokyo dining, budget dining Tokyo, delicious budget soba, soba, tokyo soba