It's time once again for the Top 3 Indies Artist Video Countdown. The Top 3 best Indies and Alternative Music artists for the week of Jan. 8, 2017!
First up today are the Sex Organs. They are an inter-galactic sex 'n' roll from outer space, er, band… Unit…Duo… Er, Aliens! A primitive, trash, garage, space odyssey! The Sex Organs were formed in 2014 and played their debut show at the legendary Funtastic Dracula Carnival in Spain! They have a fun Facebook page. Check it out: https://www.facebook.com/The-Sex-Organs-293401910860896/
#3) The Sex Organs – Outer Space https://www.youtube.com/watch?v=wRnOBV6NL-s
At #2 is a band that first appeared on our countdown last week at #1! It's the Tearaways. These guys started out in the old L.A. punk days…. In fact, you might want to check their Facebook page (https://www.facebook.com/TheTearawaysUSA), too, as there are some well known people in this excellent band. This video (and last week's #1 for "Bash") was made by Stephen David Brooks who is the director of the award winning (and quite thrilling) movie, "Flytrap." (Check the trailer for Flytrap here: https://www.youtube.com/watch?v=aUNrSgu3bi0). 
#2) The Tearaways – Hello Isla Vista  https://www.youtube.com/watch?v=MXV0YHU9Fqc
At #1 is a new London band named Cabbage from Manchester. Cabbage were turned on to us by our hero Ginger Wildheart who is coming to Japan at the end of this month. They have a Facebook page, of course: (https://www.facebook.com/cabbagelechou/?fref=ts)  The Sun, a big UK newspaper picked them as "Top Tip for 2017″… Here's what they wrote about it on their FB page: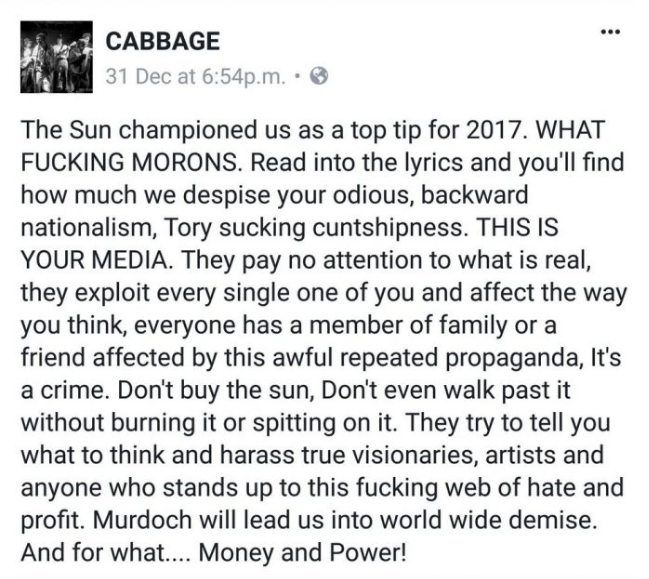 #1) CABBAGE – UBER CAPITALIST DEATH TRADE https://www.youtube.com/watch?v=5Xw6KdAFZxU
TODAY'S SPOTLIGHT ARTIST! Is Su凸ko D凹koi (Su Ko D Koi). They will be headlinging at our free Jan 23 New Year's party. Bee there! Information below the video! Here's their Facebook page, by the way: https://www.facebook.com/ssttddkk/?fref=ts
TODAY'S SPOTLIGHT ARTIST! Su凸ko D凹koi (すっとこどっこい) 「店長、私バイト辞めます。」 "Shop Manager! I'm quitting my part time job!" https://www.youtube.com/watch?v=iidnGJKJ-rQ
Mike & Taro's FREE New Year's party! Jan 23, 2017 starting at 7 pm at Shibuya Milkyway.
Mike & Taro とパーティーしましょう!「2017!新年会!」
2017年月1月23日(月)@Shibuya Milkyway
OPEN/START 18:30 / 19:15
ADV/DAY Invitation Only 1D¥600
CAST:Su凸ko D凹koi / THE STEPHANIES / THE PATS PATS
TICKET:会場・各バンドweb予約※11/5(土)正午12:00~受付開始!
http://bit.ly/2fv2qoe
お問い合わせ:Shibuya Milkyway 03-6416-3227
※先着限定200人!!定員になり次第、予約を締め切らせていただきます
About Mike in Tokyo Rogers: Mike has been a professional music/TV/radio/anime-related program producer in Japan since the eighties. He began in the music business in 1977 as lead vocalist with the crappy but legendary Los Angeles Punk Band, "The Rotters" (Sit on My Face Stevie Nix.). As a university student, he was assistant to the legendary Rodney Bingenheimer (Rodney on the ROQ – KROQ Los Angeles from 1980 ~ 1981.) Mike was the first and only foreigner in Japanese history to become the General Manager of a major Japanese broadcasting station (TV Tokyo owned InterFM). Has produced a few smash hit programs and several of Japan's highest rated and most famous radio programs. A recent hit program was "The TV Show" (Set Program with "Ninja Slayer") which, between April – Oct. 2015, garnered over 10 million viewers.  He is currently producing and hosting "WTF?" the hugely popular Sunday live show on InterFM 89.7 as well as Rakuten Superrr Radio's  Power Morning everyday Mon. ~ Fri. 6 am ~ 10 am. As well as Rakuten Superrr Radio's Power Evening Mon. ~ Fri. 5 pm ~ 8 pm. And His life's dream is "Ghostroads – A Japanese Rock and Roll Ghost Story"which will be released by a major Japanese motion picture company and in theaters all across Japan in Oct. 2017.
Oh, and Mike drinks too much.
Top 3 Indies Artist Videos for Oct. 15, 2016! Chris Catalyst, Suzy Blu, Garbage, Su Ko D Koi (Japan) http://robot55.jp/blog/top-3-indies-artist-videos-for-oct-15-2016-chris-catalyst-suzy-blu-garbage-su-ko-d-koi-japan/
Top 3 Videos for Sept. 17, 2016! Dog Party, Kinoko Hotel (Japan) Lovely Eggs, Peach Kelli Pop!robot55.jp/blog/top-3-videos-for-sept-17-2016-dog-party-kinoko-hotel-japan-lovely-eggs-peach-kelli-pop/