"Self-education is, I firmly believe, the only kind of education there is." ― Isaac Asimov
"Anyone who stops learning is old, whether at twenty or eighty. Anyone who keeps learning stays young." ― Henry Ford
"I'm unpredictable, I never know where I'm going until I get there, I'm so random, I'm always growing, learning, changing, I'm never the same person twice. But one thing you can be sure of about me; is I will always do exactly what I want to do." ― C. JoyBell C.
—————————-
Yesterday was a great day editing our Japanese Rock N Roll Ghost Story movie. It was fun.
I felt happy because of two important things:
1) We were creating our dream. I mean, it was me, us, we. We were creating our dreams by making the effort. There was nothing stopping us from making what we wanted to create and, therefore becoming who we are destined to be.
2) We were learning. We were all learning a new skill and how to become better at our craftsmanship. We learn by doing; by being; by making the effort. Isn't this the way to live a fulfilled and happy life?
Today? I woke up happy and feeling good. It's nice to be nearly sixty-years-old and wake up in the morning feeling good and thinking, "Gee! I learned something totally new yesterday." No matter how old we get, we must continually keep learning and expanding ourselves and our universe.
There are quotes at the top of this page by the famous, but in my own Hollywwod, the quote might be:
"Life happens to people."
Folks, keep learning! Live life to the fullest.
Yesterday, we had a day of editing and color correction on the Japanese Rock N Roll Ghost Story movie. It was the first time to have ever used Da Vinci software for color correction. I had never seen the software before. I now know why all the big Hollywood movies use it.
I mentioned before that we had finished the initial stages of video production and the trailer now looks set to be of "Hollywood" quality. I am expecting the trailer to be ready for your viewing within two weeks of this posting.
I look forward to more video editing, shooting, and post production in the next few days. I hope you do too.
We will keep you posted.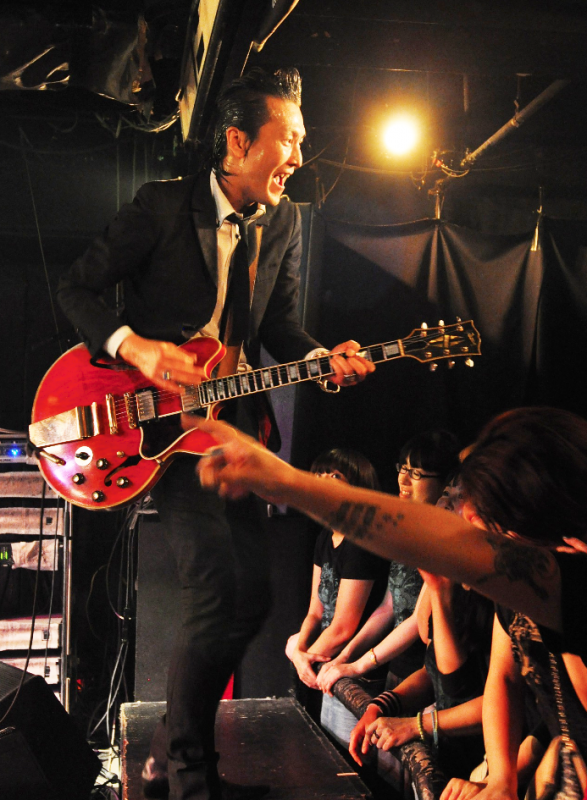 Mr. Pan, lead vocalist and guitar of the Neatbeats. Mr. Pan is starring in the film. (Photo by Osamu Arai)

To read more about: A Japanese Rock & Roll Ghost Story – click here: www.robot55.jp/rock-roll-ghost-story/