Hey! Damn! WTF? There's a worldwide Garage Rock boom going on (or so it seems to me!) It's rockin' and Japan is in the middle! Cool!
Before we get into the hits (or misses, as have you…) I have to say thanks to my wife Yuka, who puts up with my shit everyday! She's the best! I'm drunk every night and she doesn't complain! (OK. OK. I didn't drink the last two days but that's only because I haven't felt well.) But I'm drinkin' tonight! Drinkin Wine Spo-dee-o-dee, drinkin' wine! (I don't drink wine. But who's counting?)
First up today is a band from Norland! (Norway, Finland? Whatever!)
#3) Death By Unga Bunga – Feel Alright https://www.youtube.com/watch?v=A0LVTsDoAPA
At #2 is a band that my friend in Paris, Yukiko Shimoda, really digs and she actually had her photo taken with them and her handsome husband, a few weeks ago when they played Paris! (How is that possible???!!!) They are on Tim Armstrong's (Rancid) label, Hellcat! (Thanks a gazillion to Kitano Mayumi!!!!! I LOVE YOU GUYS!!!!! LIFE IS SHORT LET'S HAVE FUN!!!!!!!!!!!!)
#2) The Interrupters – Take Back The Power  https://www.youtube.com/watch?t=2&v=q7Ol-YDS4Jc
At #1 is a band that was introduced to me by Kona Cindy, Cindy Kona (Whatever…Can't keep it straight). Kona Cindy has introduced me to like, 7 of the last 4 #1 hits on the Japan chart! How does she do it???? This girl has her shit together! If you wanna be played in America and Japan, then Kona Cindy is THEE conduit for that!!!! Anyway, thanks Kona Cindy!!! Kona Cindy introduced me to this fricking great band! From Los Angeles, it's The Dollyrots. This record has been played constantly on my radio show for the last few weeks. And, why not? This fucking rocks!
#1) The Dollyrots – Da Doo Ron Ron Ron/I Wanna be Sedated  https://www.youtube.com/watch?v=uZZEZfyLgLo
And speaking of Los Angeles, Rodney of the Roq, THEE Rodney Bingenheimer, who I used to be a Go-Fer for in 1980 and 1981 (Rodney introduced me to the Clash, Ramones, Blondie, Phil Spector, Guns and Roses, and a bunch of other people that I can't remember!). Rodney played this band on his radio show on last Sunday night! Japan's own, The Routes! These guys have been getting tons of airplay in Europe and on my measly radio show too. The Routes are fricking HOT!
BONUS TRACK: The Routes – Do What's Right By You https://www.youtube.com/watch?v=4iVLUIHDZYc
Cool!
———-
Hey! We're making a "Japanese Rock N Roll Ghost Story" Movie. Please check out the trailer (with full English subtitles!) at the very top of this link. The Crowdfunding ends in 3 days on Sept 28, or 29… I can't remember. Check it out!: https://www.makuake.com/en/project/rock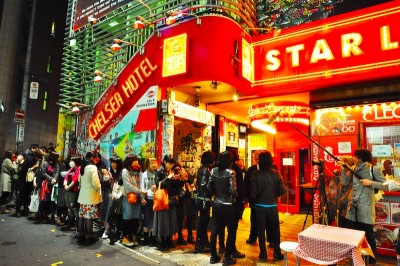 PAST ISSUES OF THE TOP 3 VIDEOS:
Top 3 Videos for Sept. 18, 2015! Fidlar, Jungle Giants, Su凸ko D凹koi and Barrence Whitfield robot55.jp/blog/top-3-videos-for-sept-18-2015-fidlar-jungle-giants-su凸ko-d凹koi-and-barrence-whitfield/
The Top 3 Videos for August 8, 2015! Surfer Blood, The Let's Go's, Bonsai Kitten and The Jigsaw Seen robot55.jp/blog/the-top-3-videos-for-august-8-2015-surfer-blood-the-lets-gos-bonsai-kitten-and-the-jigsaw-seen/
The Top 3 Videos for July 31, 2015! The Havenots, Westkust, Kid Wave and the Mutants! robot55.jp/blog/the-top-3-videos-for-july-31-2015-the-havenots-westkust-kid-wave-and-the-mutants/
Top 3 Indies Artist Videos for July 25, 2015! Red Bacteria Vacuum! Perrosky! Rocket and the Atomic Stooges from Japan! robot55.jp/blog/top-3-indies-artist-videos-for-july-25-2015-red-bacteria-vacuum-perrosky-rocket-and-the-atomic-stooges-from-japan/
Top 3 Indies Artist Videos for July 17, 2015! robot55.jp/blog/top-3-indies-artist-videos-for-july-17-2015/
—————————-
ARTISTS! SEND ME YOUR NEW VIDEOS! I WANT TO HELP PROMOTE YOU!
These Top 3 Video posts are sometimes getting tens of thousands of hits per week. Need proof? Do a Google Search for "Top 3 Videos" or "Top New Artists Videos" and you'll see Robot55 on page one! blowing away MTV, Billboard Magazine, Billboard, Niconico Douga and all the rest.
 3 New Artist Videos, 動画制作、格安動画制作、ビデオ制作, 格安, 撮影,ビデオ編集, 動画制作, ROBOT55, Indies artists, Top 3 Indies Artist videos, ロ ボット・ゴー・ゴー,  格安, Top 3 Videos, ビジネスビデオ制作, ロボット・ゴー・ゴー, 撮影, 格安, ビデオ制作, 動画, 紹介動画, Top 3 Videos, ビデオ, 東京, Top 3 Videos, Top 3 Indies Artist's Videos