It's time for The Top 3 Indies Artists Videos for the week of Mar. 20, 2016! Welcome back to the Top 3 Video countdown!
First up is a band introduced to us by Hollywood Party girl Kona Cindy. The band's name is Taymir and they are 4 lads from Rotterdam, Netherlands. This video is cool because the song rocks but they are also playing it live, so that's quite unusual for a music video. Here's their FB page: https://www.facebook.com/Taymirmusic
#3) TAYMIR – Doghouse  https://www.youtube.com/watch?v=r_lccRw51M4
At #2 is a 5-piece group from Los Angeles, California that is performing at SXSW right now! This is hot! The Pom Poms. Here's their FB, go Like it: https://www.facebook.com/pompomsmusic/?fref=ts
#2) Pom Poms – 123   https://www.youtube.com/watch?v=TOopJc06yZY
At #1 this week is Purple from Beaumont, Texas. Purple is three rockers and a they feature a hot girl who sometimes growls when she sings! It's great! It's their 3rd time on our countdown. They call their music Punk/Rock/Stuff. Here's their Facebook: https://www.facebook.com/purpletexasmusic
#1) Purple – Bliss https://www.youtube.com/watch?v=BVjT_mGcB8s
Earlier this week, I did a TV special for the folks at Tower Records as they were promoting the punk rock classic, "The Decline of Western Civilization." It was fun. I wore my "Used Car Salesman clothes" (that reminds me how some of the guys in Repoman dressed." (That's me in the middle)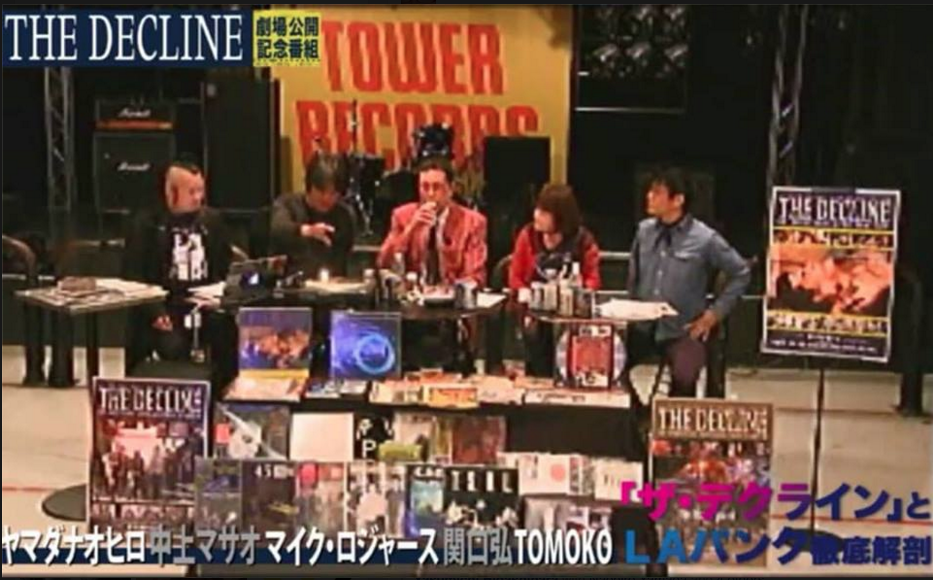 Here's information about the film and showings in Japan on Tower Records TV page: http://www.towerrevo.jp/article/20890/
Anyway, why I mention this is that I became friends with the two guys who run this Tower Records project, Naohiro Yamada and Masao Nakagami. These guys know their shit!!! They know everything about what's really going on. I asked them to introduce me to some cool new Japanese Punk outfits and Nakagami san sent me a BUNCH of them within 10 minutes!
Thanks guys! You guys rock and are singlehandedly spreading the word about cool music to Japan and cool Japanese music to the world! I am proud to know you! Keep up the good work!
SPOTLIGHT ARTIST! Wotzit! Wotzit has no videos with good sound on Youtube. Their Bandcamp page says, they are "Soaked with Venom." And a Punk Rock band from Tokyo. Formed in 2015.
——————————
Well that's all the videos for this week. See you back here in a week from now with more cool new music! – Mike (in Tokyo) Rogers