They say a picture speaks a thousand words. And we all agree with that, right?
Well, if a mere photo speaks a thousand words, then a video speaks millions. Here is a video that I found while searching for images for a client. Actually, I cried at about 1:40 of the video where the mom is serving food to the two kids and the song, Shojyoji no Tanuki Bayashi 「証城寺の狸囃子」(しょうじょうじのたぬきばやし) , is played. My mother used to sing that song for me at bedtime when I was a little boy.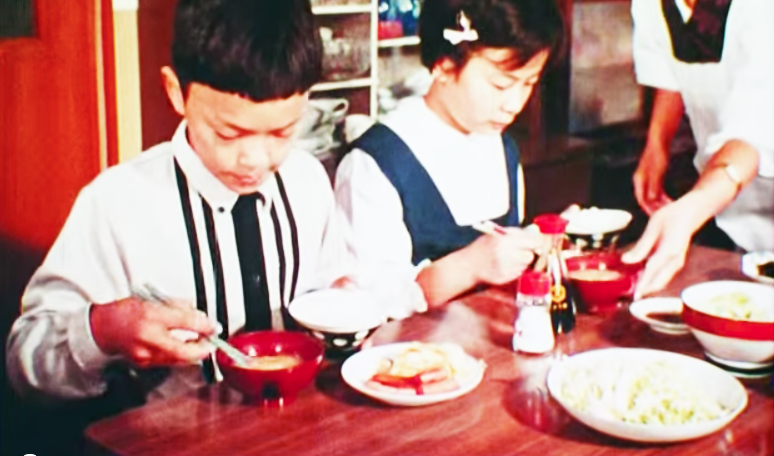 This video shows the life of a typical Japanese family in 1966. It was filmed by a German TV crew. This is quite enjoyable as it shows the family and their daily life; waking in the morning; going to work and school; the day's events and coming home at night.
Please pay attention because there are many very cool shots of Tokyo intersections, the train stations, an old TV and much more. But one thing really struck me about life in Japan: Basically, things haven't changed all that much since 1966 to today: kids still wear uniforms, the family unit is still strong, the train stations look the same. It's wonderful. The more things change, the more they stay the same.
Here is the video:
1966 Japanese Family Life (if the video doesn't play, click here:https://www.youtube.com/watch?v=qvoZjbp9R1w)
I watched the entire film and enjoyed it immensely so I thought we should share it with you.
Having a film like this immortalizes this family and this slice of time.
Having videos of the family is great and it is wonderful to see everyone prosperous and healthy.
When it comes to family videos, the cameras nowadays make great videos for the family. But for the business, and those special occasions, you want to show customers and potential customers your dedication to quality and care, then a professionally made video from the Tokyo production team of Robot55 could be the answer you are looking for.
The video above is 45 years old and is still very cool and cost several tens of thousands of dollars to create. But, a top-quality professional 60-second video showing people your shop, restaurant or business done by Robot55 can be made as low as ¥70,000!
Let's do the math, the Tokyo Olympics is coming in 5 years, so your video can help your business greatly in that time and beyond. 5 years x 365 days a year = 1,825. ¥70,000 / ¥1,825 is ¥38 yen a day. (¥4 a day if we are looking at it from a 45-year calculation!)
Could there be any better, cheaper, more effective way to drive customers using a smart phone or other device to find your business than a video on Youtube or your webpage? Contact us at Robot55! email:contact@robot55.jp