If your business doesn't have a Facebook page, then you need to make one today. Why? It's free for one. And a Facebook page for your business is a great way to promote your business, service, product or organization.
Did I already mention that it is free?
Nothing can beat free in my book when it comes to promotion!
All you need to do is to take 2 ~ 5 minutes a day to update your Facebook page and to connect with your customers and potential customers. That's not too much, is it? Especially if you are a small business; just spend a few minutes everyday to promote your business instead of spending hundreds or thousands of dollars on buying promotion?
It's your business, service, product or organization; your call. As for me, I'll take free anyday. By the way, I gathered nearly 6,250 "Likes" on my program Facebook page in a year. If you make the effort, you'll be rewarded. (Please come "Like" that Facebook Page. It's for my radio show! https://www.facebook.com/WhattheFunday76.1?ref=hl)
It's that simple.
There's more! Facebook now has a brand new function that allows your video to play automatically if someone visits your page. The visitor doesn't need to click anything! The video just starts playing if you embed the video directly into your Facebook page instead of just adding a link to a Youtube video.
I think this function is confusing to people if you have a bunch of videos on your Facebook page. But, say, if you only have one, it's perfect! I highly recommend it!
We made a video production for a young couple who run a yakitori named "Flat" near my house. It was great fun making their promotion video, and Flat is the best Yakitori restaurant around!
In the case of Flat, there is only one video on their page – the one we made – so it is extremely eye-catching and effective. Here's a screen capture of their top page on FB… (Go see the actual page on FB here: https://www.facebook.com/yakitori.flat)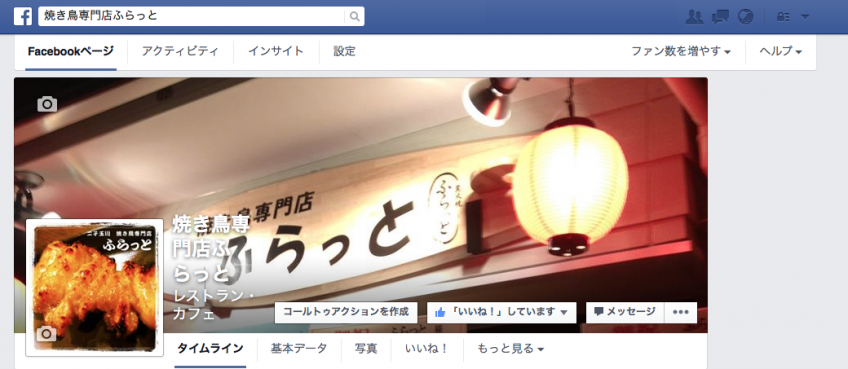 And, if you just scroll down a touch, you'll see the video embedded in their FB page. It's like a TV commercial at the top of their page! AND if you click the "Keep on Top" Tab, the video will stay at the top of the page forever! Just what you want!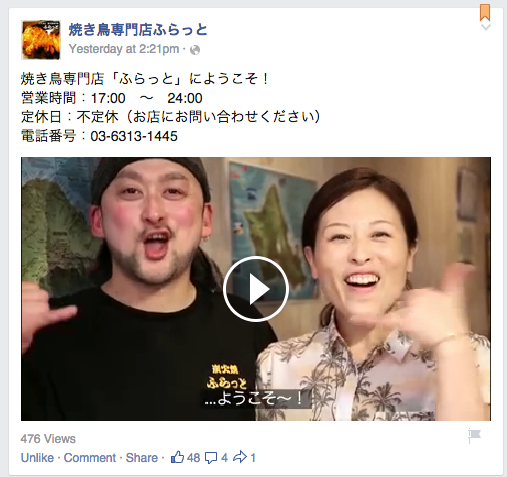 To see the actual video, and not just a screen capture, go to the "Flat Yakitori" Facebook page here: https://www.facebook.com/yakitori.flat
This video at the top of their Facebook page makes the page, "Come Alive!" It brings in more customers as people can see inside the restaurant and know what kind of people the owners and workers are. It is nearly perfect!
On a side note, I was watching the video earlier today and then I thought, "Someday, maybe 10 or 15 or 20 years from now, they'll look back on this video and have fond memories of a great business and how the video WE MADE helped them to do a good business and make money; as well as wonderful memories.
Make your own Facebook page and make your own video to promote your shop, restaurant, organization, service or product.
If you need help making the Facebook company page or if you need help or just advice on making a great video by yourself or you'd like to discuss the best quality and price in Tokyo, feel free to contact me, Mike (or in Japanese write to Ken) at Robot55. We are at your service!
Email: contact@robot55.jp
———————————-
*Oh, and please come "Like" our Robot55 Facebook page here:
https://www.facebook.com/robot55video?ref=hl
*And, please give "Flat Yakitori" a "Like" too!!!!!
https://www.facebook.com/yakitori.flat