(Image at top is the first – totally ripped off design – of the robot for Robot55.)
May I brag? I've had so many people tell me that they love the Robot character we use for Robot55. Thanks. I made him myself…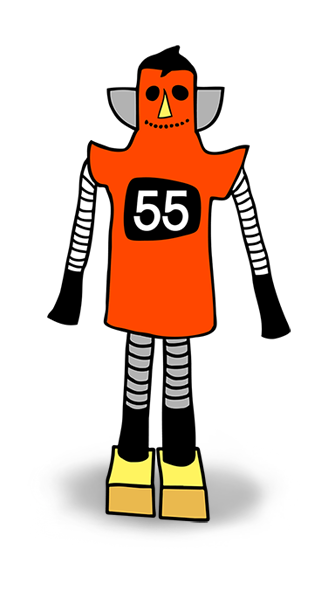 Uh, no… That's not true. Ayumi, our president made him. Besides being a sort-of genius engineer and designer, she's a mad scientist!

Since I can remember, Japan has always had a lot of robots (be they real, giant or otherwise) as well as monsters and ghosts. When I was a kid growing up in Minnesota, we always thought it was strange. I remember asking my  mom (who was Japanese) why the Japanese had so many weird monsters and robots everywhere. It's bizarre when you stop to think about it; Japan had lots of robots, etc. since way back when. Now, in 2015, Japan has robot restaurants and all sorts of funky aluminum creatures… And, as for monsters, I guess Fukushima Dai-Ichi could fit that bill.

How little did we realize when we were little kids, that this 60's Japanese Kitsch was extremely cool…. How little did we realize that those toy cars made out of aluminum beer cans that came from Japan in the sixties would be worth thousands of dollars to collectors today. How could we realize, as little kids, how dumb we were? The robots, monsters and toy cars from Japan were waaaaaay cool. Us dumb dorky kids were the ones who weren't cool.

I looked up some cool videos of the seminal Japanese robot character: Giant Robot. That cartoon was known as "Johnny Sokko and His Giant Robot" in the USA.  I turned on this Youtube video link and watched. "Ah!" I thought, "I remember this TV show! His finger is a rocket!"
A minute later, my wife peered out of the dining room, when she heard the theme song of Giant Robo and exclaimed, "I loved this TV show! When it ended, I cried and cried!" (She started to cry right there too! She's so sweet)
Watching my wife relive a moment of her childhood brought tears to my eyes! She reminded me of my mother; and, her emotions remind me, once again, just how romanticist and delicate the Japanese can be.
I love Japan and the Japanese people! 
Here's a trailer for Giant Robot…

… Maybe this is just one more clue into why the Japanese have a fascination with robots and giant radioactive creatures from space and the bottom of the ocean….

NOTES: Giant Robo first appeared in Weekly Shonan Sunday in 1967. The Giant Robo manga (comics) first appeared in a weekly comic book called Weekly Shōnen Sunday on May 1967. Written by Mitsuteru Yokoyama, Giant Robo tells the story of Daisaku Kusama, the titular Robo and an evil secret society known only as "Big Fire." In October of the same year, a live-action adaptation premiered on TV Asahi.