It's time once again for the Top 3 Videos! The best of the Top 3 Indies Band videos for June 25, 2016!
First up today is a band I just stumbled upon this morning (it was early, I can't remember how I found them!). This band is 3 guys and a hot girl from St. Petersburg, Russia! They describe themselves as, "Experimental, bedroom dream pop, female vocalist, garage rock, goth, lo-fi, Russian shoegaze." Well, I guess that just about covers it! I like this a lot. Go be the first one on your block to go "Like" their FB page: https://www.facebook.com/angelicmilkofficial/
#3) angelic milk – Rebel Black https://www.youtube.com/watch?v=OBrwwZbDrTg
Next up is a band from Seattle, Washington that reminds me a tad bit of the girl's group, "Hinds" from Spain. Today's #2 are an all-girl 4-piece who self describe themselves as, "Barf-core/fart-core/vomit-garage." Mmmm? This sounds tasty. Here is their FB page: https://www.facebook.com/mommymommylonglegs
#2) Mommy Long Legs – Life Rips  https://www.youtube.com/watch?v=3mWdA97KyOg
At #1 this week is something BRAND NEW by Richie Ramone. Folks, seriously, I gave this tune its world-debut on my radio show when Richie was in Japan and I have to say this is a great tune. In fact, I think this is one of the greatest Ramones tunes (n)ever made. Thank God for Richie for cranking out this future classic. Best punk song of the year? Go Like Richie's FB page: https://www.facebook.com/RichieRamoneOfficial/?fref=ts
#1) Richie Ramone –  I Fix This    https://www.youtube.com/watch?v=Ows6w04lptw
Oh, let me brag, while Richie Ramone was here, we went to have a beer and lunch with bassist Clare. It was fun! Thanks Richie and Clare!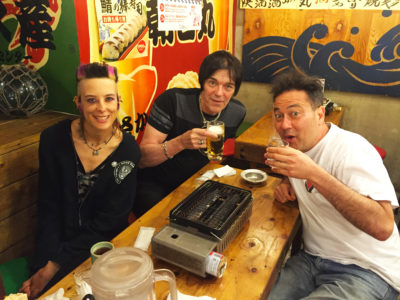 SPOTLIGHT ARTIST! Today's Spotlight Artist is a Japanese band from Hokkaido who was introduced to us by my friend Masao Nakagami. The band is a punk rock band trio called Rangsteen.  They've just released their 3rd album entitled: Zero. It's cool. Go check out their Facebook page: http://bit.ly/2976G9M
SPOTLIGHT ARTIST! RANGSTEEN / THE END https://www.youtube.com/watch?v=d-uBhhlEe8Q
Well, that's it for today! See you next week!!!!!  – Mike (in Tokyo) Rogers (Please come Like my FB page! Thankx!)
—————————–
PAST ISSUES OF THE TOP 3 VIDEOS:
Top 3 Videos for June 18, 2016! Frankie and the Studs, Su Ko D Koi (Japan), Creeping Ivies, Dressy Bessy! robot55.jp/blog/top-3-videos-for-june-18-2016-frankie-and-the-studs-su-ko-d-koi-japan-creeping-ivies-dressy-bessy/
Top 3 Videos for June 11, 2016! The Mirror Trap, Woolly Bandits, So So Glos, King Brothers (Japan) http://robot55.jp/blog/top-3-videos-for-june-11-2016-the-mirror-trap-woolly-bandits-so-so-glos-king-brothers-japan/
ARTISTS! SEND ME YOUR NEW VIDEOS! I WANT TO HELP PROMOTE YOU!

These Top 3 Video posts are sometimes getting tens of thousands of hits per week. Need proof? Do a Google Search for "Top 3 Videos" or "Top New Artists Videos" and you'll see Robot55 on page one! blowing away MTV, Billboard Magazine, Billboard, Niconico Douga and all the rest.
Indies artists, ROBOT55, Rock & Roll, Top 3 Indies Artist Videos, Top 3 Indies Artist's Videos, Top 3 New Artist Videos,Top 3 videos, video, video production tokyo, ビジネスビデオ制作, ビデオ, ビデオ制作, ビデオ編集, ロ ボット・ゴー・ゴー, ロボット・ゴー・ゴー, 動画, 動画制作, 動画制作 東京, 動画制作、格安動画制作、ビデオ制作, 動画広告, 広告動画, 撮影, 映像, 東京, 格安, 紹介動画, Mike in Tokyo Rogers, Mike Rogers DJ