Time again for the Top 3 Indies Artist's videos for the week of November 17, 2015.
First up is a band from Oakland and Los Angeles, California. Their Facebook page describes them as, "Bitch Pop" and "Sad Core."
#3) Wax Idols – All Too Human https://www.youtube.com/watch?v=6A0ILrLkd2w
Next up is a band introduced to me by Kona Cindy. I really have to give a nod here to Cindy (some of you read her name here almost every week)… I have been collecting music and been doing this silly music/radio business since 1978. I even used to be Rodney on the Roq's Go-Fer in 1980 and 81. Over many years, I have traded music with many people and DJs around the world. Many, many have come and gone. There is one thing I can say and that is Cindy has been there (for a few decades actually!) and consistently she finds new and interesting and exciting stuff to play and sends it to me…. I am deeply thankful for her for doing that for me. I know there are a few other DJs around the world who think the exact same thing, too.
Thanks Cindy Kona, for all you do. I don't know what I would do without you… But I do know that, without Kona Cindy, this Top 3 countdown would not be consistently good each and every week... (I am very happy with this Top 3 countdown and think it is one of the best and most exciting things on the entire internet to look forward to every week – I really do!)
On that note, next is a band introduced by Cindy Kona (duh!). The Turns are a psychedelic rock group from Los Angeles, California.
#2) The Turns – Taken Over https://www.youtube.com/watch?v=CG3M_LfOwuo
Did someone mention Cindy Kona? Yep? She turns us onto this weeks #1 also! Honeyblood is a Scottish musical duo formed in Glasgow Scotland in 2012.
#1) Honeyblood – Killer Bangs https://www.youtube.com/watch?v=AEz4_X7tshg
Finally today's FREEBIE! It's probably one of Japan's most famous Punk Bands. They are called "Samurai Attack" or just "SA" for short. These guys have been around for years and are legendary! They are having a big show this weekend at Club Citta in Kawasaki (information below the video)
FREEBIE: Samurai Attack (SA) – Callin' You https://www.youtube.com/watch?v=vOa4D2TRqc4
Check out SA tomorrow at Club Citta Kawasaki with The Neatbeats, Douhatsuten and the 50 Kaitenz! (More information? Click here: http://clubcitta.co.jp/detail/989.html)
SA presents BIG TOP SPECIAL – 感謝爆発祭
SA / 怒髪天 / THE NEATBEATS / ザ50回転ズ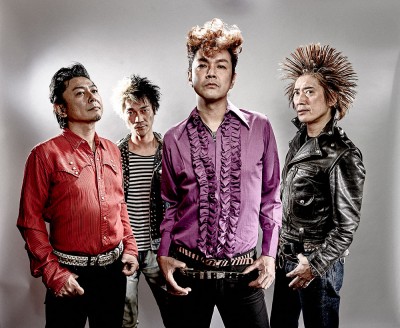 【THANKS ACT】
Welcome DJ : TAISEI、フォークソング部:NAOKI、MR.EDDIE&THE BOON FRIENDS:KEN×土佐"MR.LAWDY"和也、 中村"MR.MONDO"匠(THE NEATBEATS)、昇り坂:SHOHEI×坂詰克彦(怒髪天)
http://clubcitta.co.jp/detail/989.html
———————————
Top 3 Videos for Sept. 18, 2015! Fidlar, Jungle Giants, Su凸ko D凹koi and Barrence Whitfield robot55.jp/blog/top-3-videos-for-sept-18-2015-fidlar-jungle-giants-su凸ko-d凹koi-and-barrence-whitfield/
Top 3 Videos for Sept. 11, 2015! Texaco Leatherman, The Atom Age, Blonde Summer, the Routes! robot55.jp/blog/top-3-videos-for-sept-11-2015-texaco-leatherman-the-atom-age-blonde-summer-the-routes/
Top 3 Videos for Sept. 5, 2015! Titty Twister, Potty Mouth, Palaye Royale, Plashments! robot55.jp/blog/top-3-videos-for-sept-5-2015-titty-twister-potty-mouth-palaye-royale-plashments/
—————————-
ARTISTS! SEND ME YOUR NEW VIDEOS! I WANT TO HELP PROMOTE YOU!
These Top 3 Video posts are sometimes getting tens of thousands of hits per week. Need proof? Do a Google Search for "Top 3 Videos" or "Top New Artists Videos" and you'll see Robot55 on page one! blowing away MTV, Billboard Magazine, Billboard, Niconico Douga and all the rest.