As promised, here is another segment of the Gaijin Gourmet where you can find a delicious healthy meal in the world's most expensive and crowded city for under $3 (USD)… Under $5 USD even if you are a big eater!
Today, I'd like to introduce Yoshi Soba. Yoshi Soba was founded in 1972 and has 14 shops in Tokyo. You can see their webpage here: http://www.yoshisoba.jp/
I have been a customer at Yoshi Soba for more than 3 decades. Really. Today, I went to the shop near Kita Sando Station today to try out the victuals and was very pleased, actually, as I didn't expect much.
Why didn't I expect much? Well, I had only ever been to the Yoshi Soba at Akasaka. It is just OK. The one near Kita Sando (Yoyogi shop) was very good. (Be careful! There are two Yoshi Soba shops at Yoyogi; one is right in front of the station. Today's featured shop is nearby Kita Sando station and Meiji Dori).
"What's the deal, here?" I thought. I asked the shop worker and he told me that at all Yoshi Soba shops, they use the same soup broth, but the noodles are different; some shops use pre-boiled noodles, some use fresh frozen noodles. The shop at Kita Sando uses fresh frozen noodles. The difference in taste & quality between the pre-boiled and the fresh frozen is huge.
I cannot really recommend the pre-boiled noodles shops. I can recommend the fresh frozen noodle shops.
So, what I am trying to say is that, in my experience, Yoshi Soba can be a real "Hit" or "Miss" proposition; I don't like the pre-boiled noodles at all; the fresh frozen noodles are excellent. But I consider myself a real soba connoisseur (polite laughter here, please), so I'm picky.
Seriously.
But it's not all bad news; one GREAT thing about Yoshi Soba is that the extra-large portions of noodles are no charge! That's right! Whereas most shops will charge you anywhere between ¥30 (about $0.25 cents USD) to ¥100 (about $0.80 cents USD) for the extra large serving, Yoshi Soba will give it to you at no extra charge and all you have to do is say, "Omori! Please!" (Yes, "please" in English will be understood.)
Got that? "Oh-mori!" (please or "kudasai"! It's that simple!)
So that, my friends, is Yoshi Soba's best sales point; large sizes at no extra cost!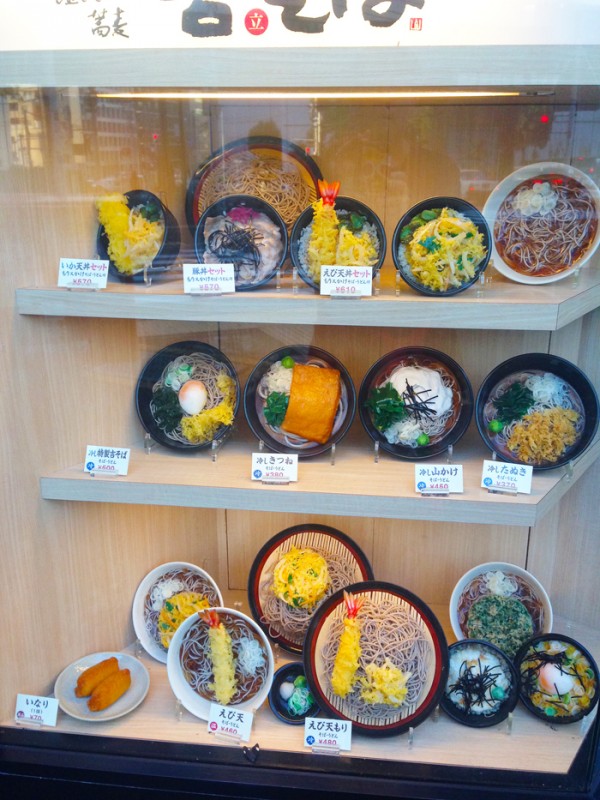 The wax food display is available at all Yoshi Soba shops. Find what you want and buy at the ticket machines. Many Yoshi Soba shops are right by the stations so some of them have a very short menu list.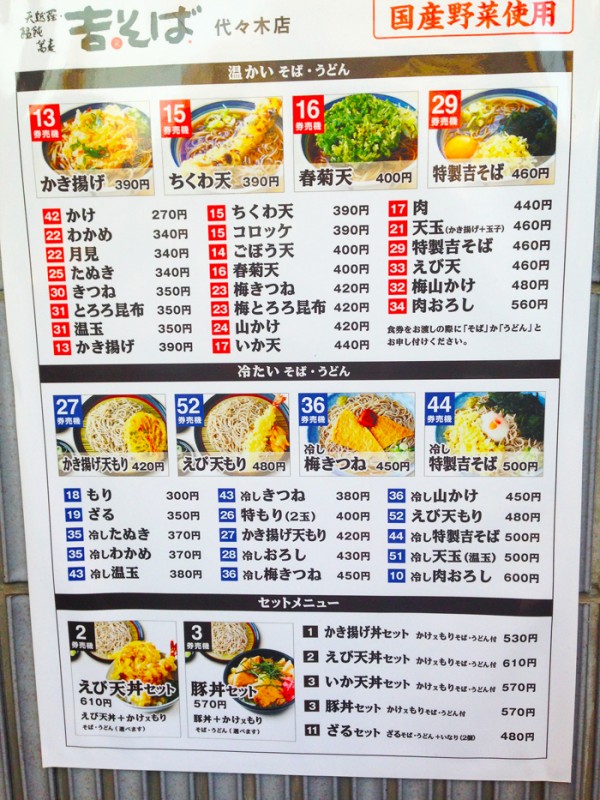 The Yoshi Soba near Kita Sando station is large and so it has a large menu. If you want to see the standard menu for all Yoshi Soba shops, it is here on their webpage: Yoshi Soba Menu – http://www.yoshisoba.jp/menu/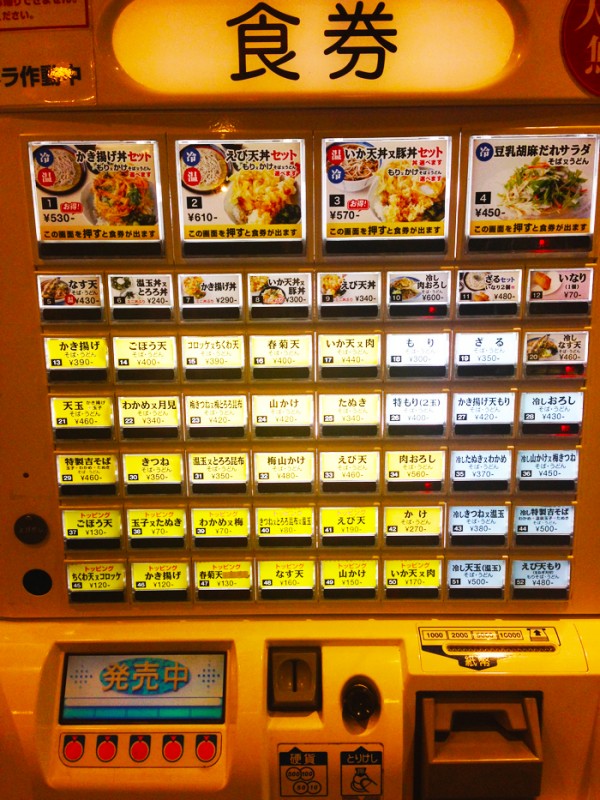 The ubiquitous Soba/Japanese fast food shop has a ticket machine…. (Japanese fast food. like standing sob shops, are quite healthy!) As usual, if you see something at the outside display you fancy, but can't find it on the ticket machine, just ask the shop attendant… If it is not rush hour, this is Japan so service is excellent everywhere; the staff will gladly help you. Just ask!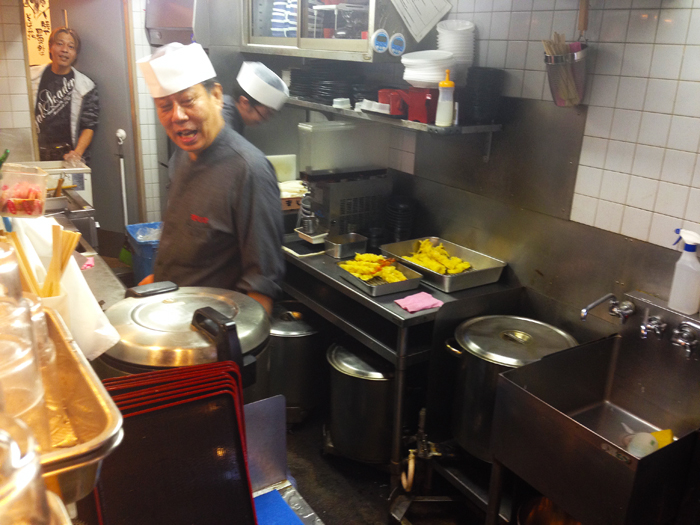 This Yoshi Soba, near Kita Sando station, has been there for at least 17 or 18 years now. Nevertheless, a Gaijin Gourmet top requirement is a clean kitchen. Yep. They have that. Top score for cleanliness!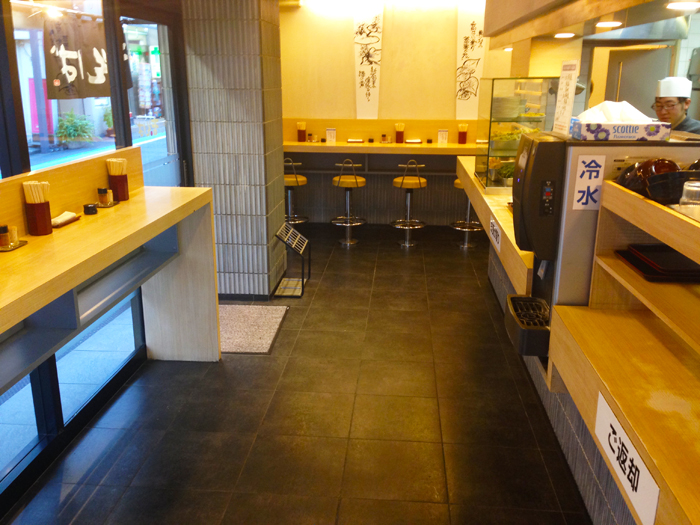 This particular shop has plenty of room. We sat at the seats near the front window (not pictured) so we could watch the girls all go by! Oh, by the way, this shop is 3 minutes walk from Yoyogi Park on the Yoyogi station side. Walk to Meiji Dori… (There is another Yoshi Soba right in front of Yoyogi station… But it is so small, I suspect they might be serving the pre-boiled noodles… Not sure about that!)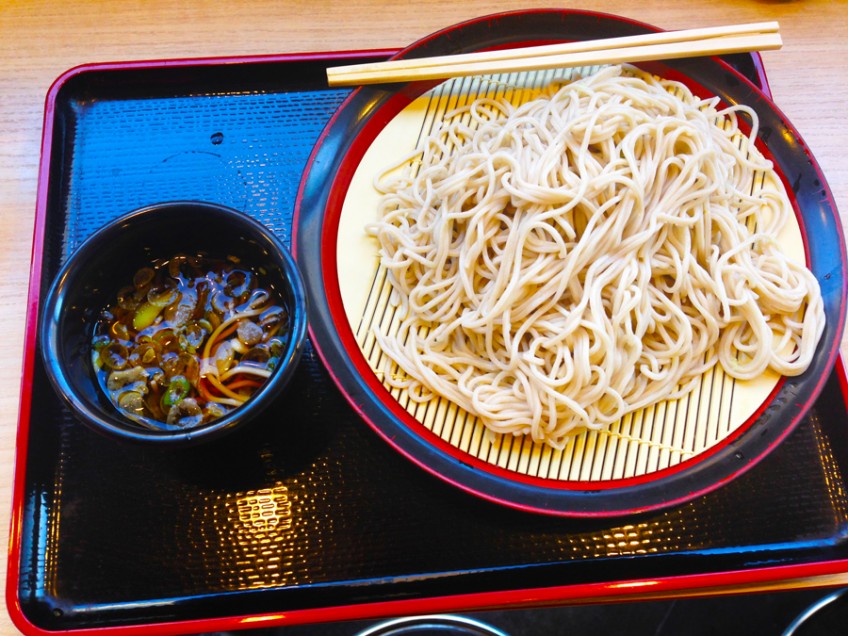 The usual for me: a large sized plate of cold soba noodles. Damages? This costs ¥300 (about $2.50 USD)… ALWAYS ask for the free large portions. Just say, "Omori!" Oh, and the fried veggies and other toppings looked really good too.
Yoshi Soba? At a shop that serves the fresh frozen noodles? 4 Stars…  At a shop that sells the pre-boiled noodles? 2.5 Stars. So, you can see, it is really "Hit" or "Miss." Find a shop that serves the fresh frozen noodles!

———————————–
Looking for a delicious healthy meal in Tokyo, the world's most expensive and crowded city for under $5 (USD)? Here's a bunch of them linked below!
Gaijin Gourmet – Delicious, Healthy Meal in Tokyo for Under $3 (USD) – Komoro Soba! robot55.jp/blog/gaijin-gourmet-delicious-healthy-meal-in-tokyo-for-under-3-usd-komoro-soba/
Gaijin Gourmet – Fuji Soba Tokyo's Top 3 Soba Chain Restaurants robot55.jp/blog/gaijin-gourmet-fuji-soba-tokyos-top-3-soba-chain-restaurants/
Gaijin Gourmet: 「モンスターMOGULLA!東京の地下からこんにちは」 robot55.jp/blog/gaijin-gourmet-「モンスターmogulla!東京の地下からこんにちは/
マイク・ロジャース!「ザ・外人グルメ」!のぐるなび ippin(イッピン)の新しい記事がアップされました!robot55.jp/blog/マイク・ロジャース「ザ・外人グルメ」!のぐる/
Gaijin Gourmet! The Best, Most Delicious Soba Restaurant in Shibuya and Shinjuku robot55.jp/blog/gaijin-gourmet-the-best-most-delicious-soba-restaurant-in-shibuya-and-shinjuku/
Gaijin Gourmet – Hamazushi! Tokyo's Best Robot Sushi! robot55.jp/blog/gaijin-gourmet-hamazushi-tokyos-best-robot-sushi/
Gaijin Gourmet – Sukiya! Japan's Best Gyudon (Beef Bowl) robot55.jp/blog/gaijin-gourmet-sukiya-japans-best-gyudon-beef-bowl/
Gaijin Gourmet Advice for Foreign Gentlemen Living in Japan!
http://robot55.jp/blog/gaijin-gourmet-advice-for-foreign-gentlemen-living-in-japan/
Gaijin Gourmet – Best Soba Chain in Tokyo?Yude Taro and ¥220 Draft Beer?! robot55.jp/blog/gaijin-gourmet-best-soba-chain-in-tokyo?yude-taro-and-¥220-draft-beer/
Gaijin Gourmet: The Best Premium Salad Bar in Tokyo? – Sizzler in Setagaya robot55.jp/blog/gaijin-gourmet-the-best-premium-salad-bar-in-tokyo-sizzler-in-setagaya/
Gaijin Gourmet! Great Cheap and Delicious Soba in Gaienmae on Ginza Line! robot55.jp/blog/gaijin-gourmet-great-cheap-and-delicious-soba-in-gaienmae-on-ginza-line/
The Gaijin Gourmet: The Best Salad Bar Deal in Tokyo at Big Boy – My Favorite Rock N Roll Diner!! robot55.jp/blog/the-gaijin-gourmet-the-best-salad-bar-deal-in-tokyo-at-big-boy-my-favorite-rock-n-roll-diner/
Tokyo's Best Cheap Sushi is in Okachimachi!? 東京の一番安くて美味しい寿司屋?御徒町にあるの? http://robot55.jp/blog/tokyos-best-cheap-sushi-in-okachimachi/
The Gaijin Gourmet: Soba Wars At Hanzomon Station in Tokyo robot55.jp/blog/gaijin-gourmet-soba-wars-at-hanzomon-station-in-tokyo/
———————-
At Robot55 we make video productions for businesses and services and products, but we also pride ourselves on making videos for art and music. Our starting price is ¥70,000 and we are sure we can work out something that fits your budget. Oh, and we love making band videos too! Contact us! contact@robot55.jp
ROBOT55 はビジネス、商業、製品紹介動画の制作のみならず、アートや音楽の映像も創っております。ビジネス動画においてはウェブ動画時代の到来に合わせ、お求めや すい¥70,000という格安価格より承ります。ご予算に応じて皆様にご満足のいく高品質動画を制作致します。勿論インディー・バンド向けPV制作も行っ ております。よ!
コチラよりお気軽にお問い合わせ下さいませ♬
————————-
ザ・外人グルメ, budget, budget dining Tokyo, cheap, Cheap places to eat in Tokyo, delicious, Delicious places to eat in Tokyo, english language video, english video production, Gaijin Gourmet, healthy, inexpensive food, professional, Tokyo dining, ザ・外人グルメ, ビジネスビデオ制作, ビデオ編集格安、ビデオ撮影格安、動画制作東京、格安ビデオ制作, ロボット・ゴー・ゴー, 動画, 動画制作, 動画制作 東京, 動画制作、格安動画制作、ビデオ制作, 動画広告, 広告動画, 格安, 短編映画, 英語のビデオ制作