Once again, here is another segment of the Gaijin Gourmet where you can find a delicious healthy meal in the world's most expensive and crowded city for under $3 (USD)!
Maybe I should write that again! Here is another segment of the Gaijin Gourmet where you can find a delicious healthy meal in the world's most expensive and crowded city for under $3 (USD)!
The parent company of Komoro Soba, Mitsuwa, was founded in 1953. It was a food supermarkets and food service business. They expanded into the noodle business and opened the first Komoro Soba in 1974. As of 2011, their Wikipedia page says they have 82 stores in the Tokyo area (but they just opened a brand new shop in Yoyogi – where today's featured restaurant and photos are from) so they have to have at least 83!
Komoro Soba's good points are (besides being the least expensive); the Soba (Buckwheat) noodles are boiled fresh. They also have Udon noodles in Kansai style. Like many chain restaurants, the soup broth is different from shop to shop. The fried toppings that you can order (for about ¥120 ~ ¥100 each (about $1 USD)) are fried in each shop so you know you are getting fresh condiments.
I think the best thing about Komoro Soba is that the condiments to add to your food, Leek onions, Ume Boshi (pickled plums) and wasabi (Horse radish) are all at the dining area so the customer can serve themselves. I always load up on the Leek onions!
Komoro soba also has take out and sells raw noodles to take home too. Business hours vary from shop to shop.
At many stations in and around Tokyo, you can find several competing chains all within eyesight of each other!  Please refer to: Soba Wars! (http://modernmarketingjapan.blogspot.jp/2012/08/gaijin-gourmet-soba-wars-at-hanzomon.html)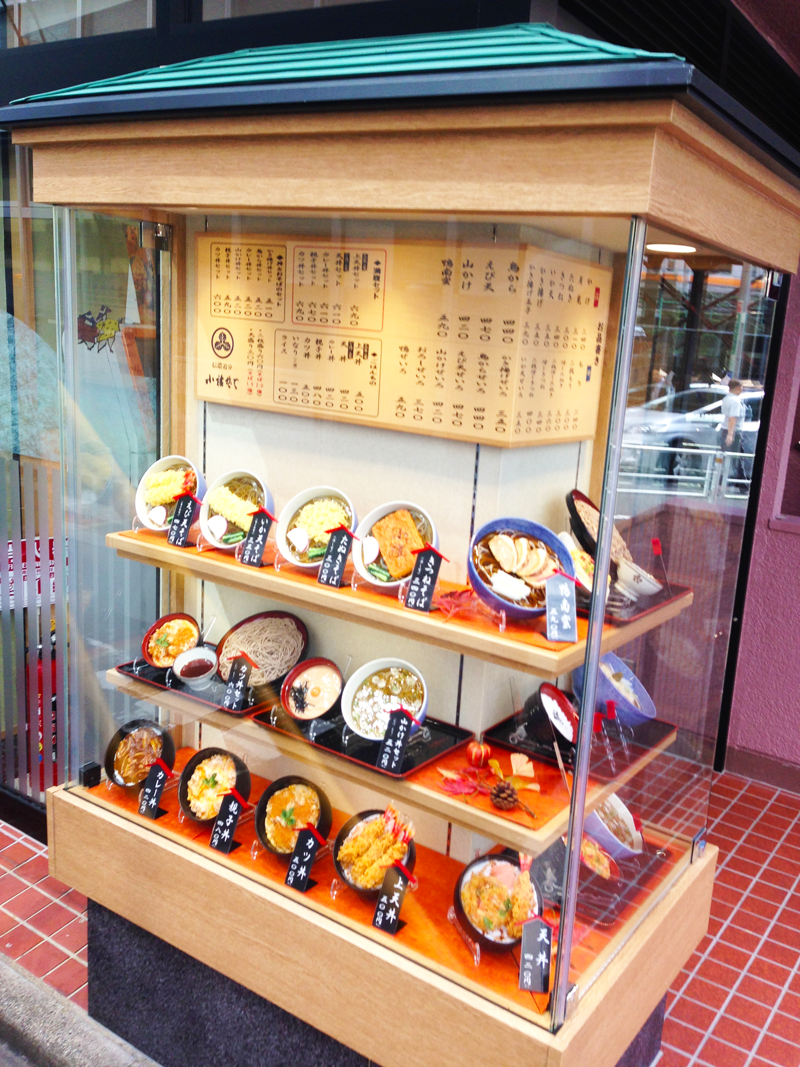 Menu showcase outside of the new Komoro Soba at Yoyogi station 20 seconds from the East Exit.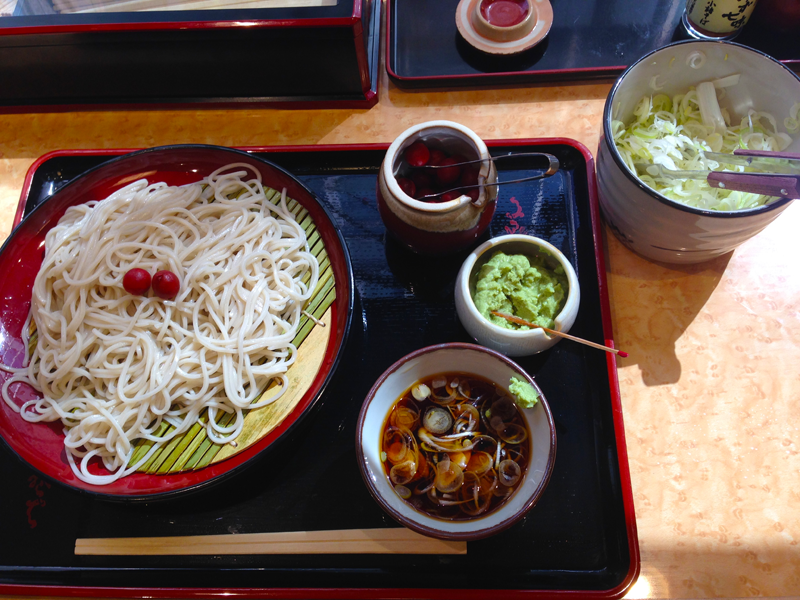 This is the jaw dropper. A regular sized plate of fresh boiled cold noodle is only ¥230! (That's about $1.91 USD!) This serving portion is very small for me, so I add on the "extra noodles" for a shockingly cheap extra ¥30! (about $0.25 cents USD!)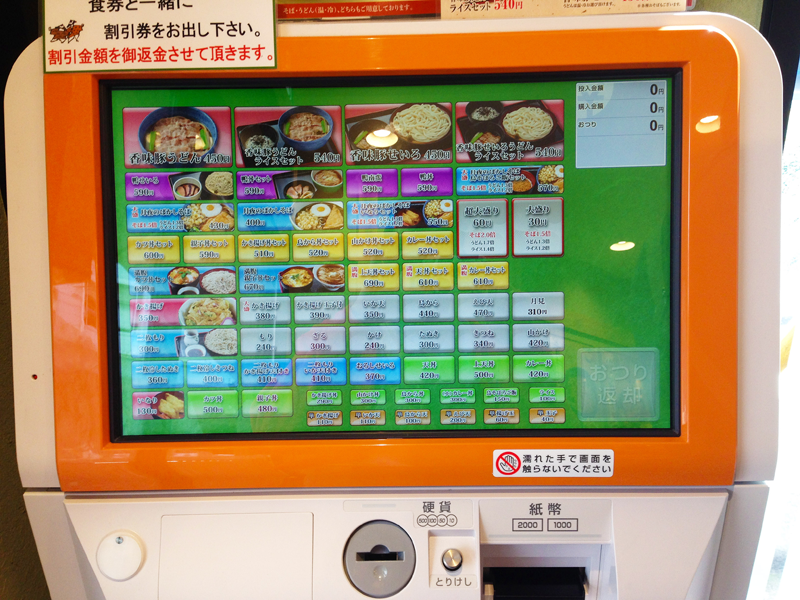 At every Komoro Soba shop I've ever been to, they have the meal ticket vending machine. As usual, if you can't read the kanji, then order something that has a photo (those are usually the most popular meals anyway)… Or ask a shop worker to come outside and you point to the dish you want at the display of food shown above!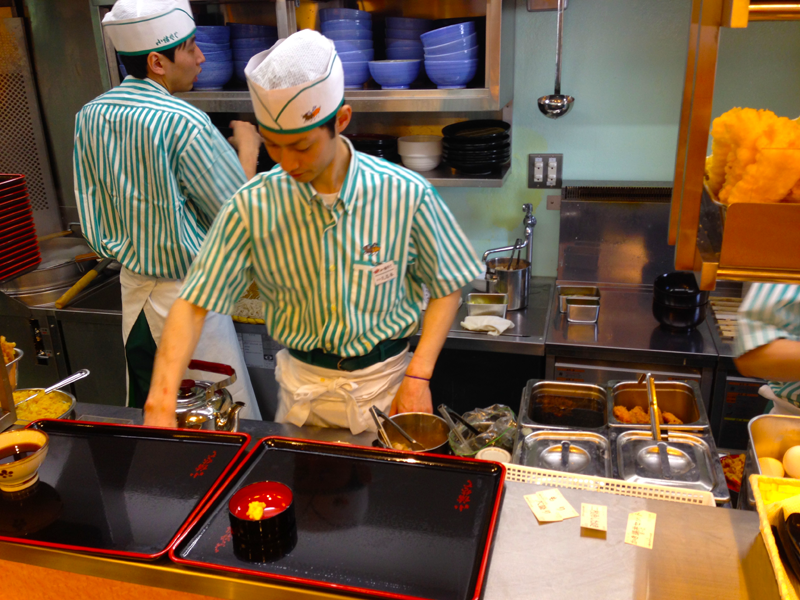 My friend Ken and I went to partake in Komoro Soba's food and we were both quite pleased. Like I said, the price is amazing… I don't think it is as delicious as Yude Taro or Shinshu Soba, but for quality and price performance, it might be the best. This particular Komoro Soba has just opened, so, of course it is spic and span clean. My friend, Ken, mentioned to me, though, that one thing that is consistent with all these chains Soba shops: They are all extremely clean!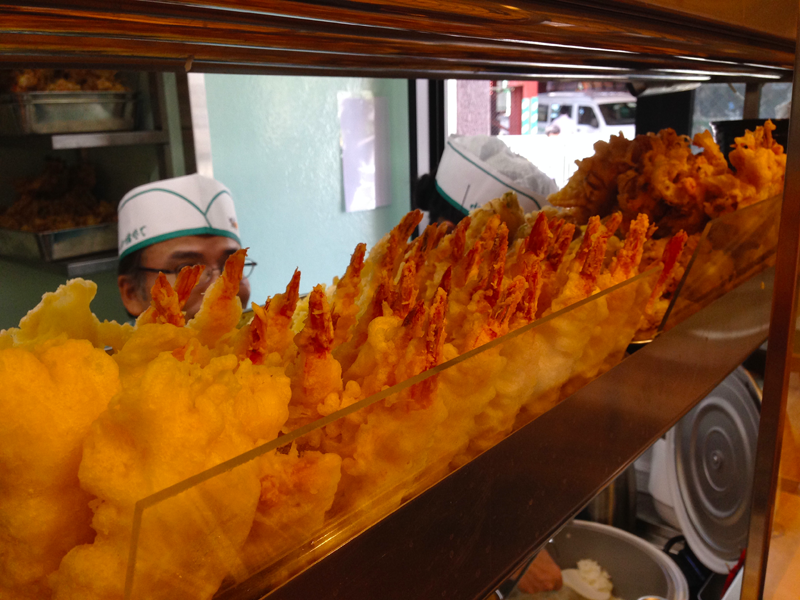 Komoro Soba offers all sorts of delicious tenpura toppings. All tenpura is fried fresh at each shop.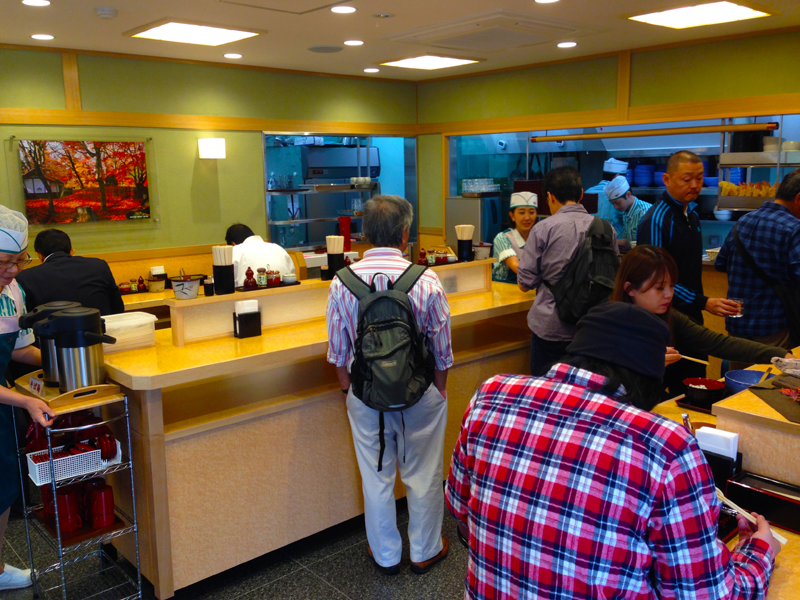 Most shops have seating and standing areas for customers. Komoro Soba shops are all located very close to the station so they get packed between 11:30 am until about 1:30, so if you want to sit, avoid rush hours!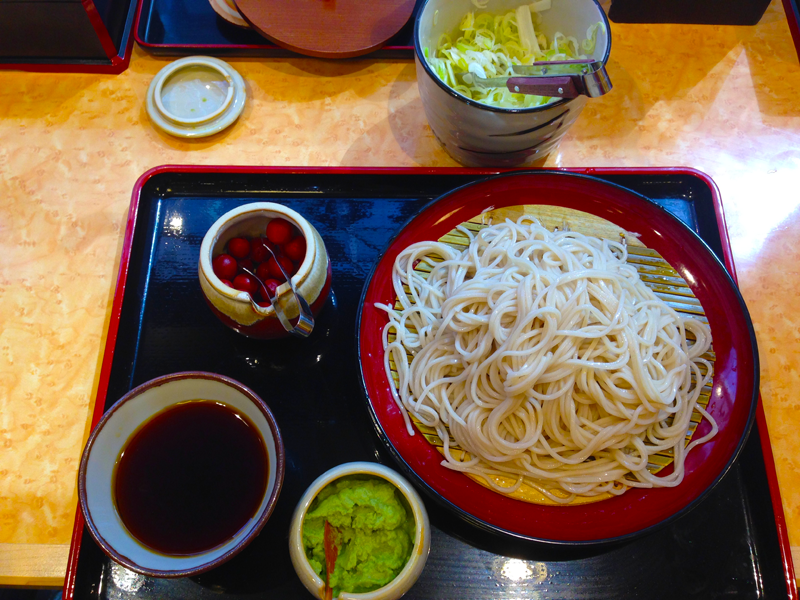 Above is the Mori Soba, "Omori" (large size). This is what I always eat at every shop. It is the only way to compare these shops – apples to apples. Each soba chain restaurant shop has it's own specialties, so if I delve into that, it would be very difficult to say which is better than the other. This is the most basic and healthy dish: cold buckwheat noodles. This large size meal is ¥260 (that's about $2.16 USD!)
Unbelievably good deal. The similar dish at Yude Taro is ¥360 (about $3 USD). At Fuji Soba, this item is ¥420 (about $3.50 USD)… But at those two chains I get the impression that the portions are larger.
I live here and it blows my mind that I can have a delicious, healthy meal of soba for less than $2.50 (USD)! And, of course, Japanese world class service, quality and cleanliness and NO TIPPING!
Komoro Soba? 4 Stars for taste. 5 Stars + for cost performance.
———————————–
Looking for a delicious healthy meal in Tokyo, the world's most expensive and crowded city for under $5 (USD)? Here's a bunch of them linked below!
Gaijin Gourmet – Fuji Soba Tokyo's Top 3 Soba Chain Restaurants robot55.jp/blog/gaijin-gourmet-fuji-soba-tokyos-top-3-soba-chain-restaurants/
Gaijin Gourmet: 「モンスターMOGULLA!東京の地下からこんにちは」 robot55.jp/blog/gaijin-gourmet-「モンスターmogulla!東京の地下からこんにちは/
マイク・ロジャース!「ザ・外人グルメ」!のぐるなび ippin(イッピン)の新しい記事がアップされました!robot55.jp/blog/マイク・ロジャース「ザ・外人グルメ」!のぐる/
Gaijin Gourmet! The Best, Most Delicious Soba Restaurant in Shibuya and Shinjuku robot55.jp/blog/gaijin-gourmet-the-best-most-delicious-soba-restaurant-in-shibuya-and-shinjuku/
Gaijin Gourmet – Hamazushi! Tokyo's Best Robot Sushi! robot55.jp/blog/gaijin-gourmet-hamazushi-tokyos-best-robot-sushi/
Gaijin Gourmet – Sukiya! Japan's Best Gyudon (Beef Bowl) robot55.jp/blog/gaijin-gourmet-sukiya-japans-best-gyudon-beef-bowl/
Gaijin Gourmet Advice for Foreign Gentlemen Living in Japan!
http://robot55.jp/blog/gaijin-gourmet-advice-for-foreign-gentlemen-living-in-japan/
Gaijin Gourmet – Best Soba Chain in Tokyo?Yude Taro and ¥220 Draft Beer?! robot55.jp/blog/gaijin-gourmet-best-soba-chain-in-tokyo?yude-taro-and-¥220-draft-beer/
Gaijin Gourmet: The Best Premium Salad Bar in Tokyo? – Sizzler in Setagaya robot55.jp/blog/gaijin-gourmet-the-best-premium-salad-bar-in-tokyo-sizzler-in-setagaya/
Gaijin Gourmet! Great Cheap and Delicious Soba in Gaienmae on Ginza Line! robot55.jp/blog/gaijin-gourmet-great-cheap-and-delicious-soba-in-gaienmae-on-ginza-line/
The Gaijin Gourmet: The Best Salad Bar Deal in Tokyo at Big Boy – My Favorite Rock N Roll Diner!! robot55.jp/blog/the-gaijin-gourmet-the-best-salad-bar-deal-in-tokyo-at-big-boy-my-favorite-rock-n-roll-diner/
Tokyo's Best Cheap Sushi is in Okachimachi!? 東京の一番安くて美味しい寿司屋?御徒町にあるの? http://robot55.jp/blog/tokyos-best-cheap-sushi-in-okachimachi/
The Gaijin Gourmet: Soba Wars At Hanzomon Station in Tokyo robot55.jp/blog/gaijin-gourmet-soba-wars-at-hanzomon-station-in-tokyo/
———————-
At Robot55 we make video productions for businesses and services and products, but we also pride ourselves on making videos for art and music. Our starting price is ¥70,000 and we are sure we can work out something that fits your budget. Oh, and we love making band videos too! Contact us! contact@robot55.jp
ROBOT55 はビジネス、商業、製品紹介動画の制作のみならず、アートや音楽の映像も創っております。ビジネス動画においてはウェブ動画時代の到来に合わせ、お求めや すい¥70,000という格安価格より承ります。ご予算に応じて皆様にご満足のいく高品質動画を制作致します。勿論インディー・バンド向けPV制作も行っ ております。よ!
コチラよりお気軽にお問い合わせ下さいませ♬
————————-
ザ・外人グルメ, budget, budget dining Tokyo, cheap, Cheap places to eat in Tokyo, delicious, Delicious places to eat in Tokyo, english language video, english video production, Gaijin Gourmet, healthy, inexpensive food, professional, Tokyo dining, ザ・外人グルメ, ビジネスビデオ制作, ビデオ編集格安、ビデオ撮影格安、動画制作東京、格安ビデオ制作, ロボット・ゴー・ゴー, 動画, 動画制作, 動画制作 東京, 動画制作、格安動画制作、ビデオ制作, 動画広告, 広告動画, 格安, 短編映画, 英語のビデオ制作