Well, the Gaijin Gourmet is now totally alpha-geek status! He's really bringing you excitement today! He went to a Maid Cafe in Ikebukuro (Electric City in Tokyo) with some friends who were visiting from the USA the other day and now he's lived to tell about it.
My friend from high school, whom I hadn't seen in nearly 40 years, went up and got hitched and has now two handsome sons. I volunteered to take them around Tokyo for a day or two and see the things they need to see: museums, Tokyo Tower, art galleries, the parliament building, Shibuya and, of course, a Maid cafe.
We were in Akihabara and I was showing them around, when out into the sidewalk popped this cute girl dressed in a maid uniform and asked us to go inside of her Maid Cafe. There were 5 of us all together; my friend and his two sons and my friend's wife (hereinafter referred to as, "Mom") and me. Being a serious straight-forward God-fearing man, I was reluctant to go into this den of iniquity known as a Maid Cafe for I could imagine the disgusting ribaldry occurring with regularity within; yet my friend's two sons couldn't resist the Siren's Call and insisted that we enter. It couldn't be helped. I had to accompany them inside as I felt a fatherly responsibility ("Fatherly" as in "Catholic Father") for this small group of misguided American males.
I said the Lord's prayer for us all as we entered…
In spite of my tingling Spidey senses, I knew I had to go inside with them and protect them from the evils lurking within – plus none of them spoke Japanese so how would they know how to order a Coke from a condom?
We entered the Maid Cafe and were charged some ridiculous sum of money just for entering. I hear they call these monies "cover charge" in the west. I wouldn't know; I'm a family man and my expeditions outside are relegated to the local church on Sunday's or Denny's or Bob's Big Boy after that where they just serve healthy family meals at a reasonable price and no cover charge, thank you very much!
We entered the Maid Cafe and the first thing I thought was, "Wait a minute! This is just a coffee/hamburger shop that serves fast food and the girls are dressed like maids! What????" This seemed odd to me as, come to think of it, don't the waitresses at Denny's (or where ever) all have uniforms that look like maids anyway?
Oh? That's it! Riiiiiight! The Maid Cafe waitresses are maids because they wear little hats! I get it!
At the next table were a husband and wife. I gathered they were French. I was surprised to see a foreign woman customer inside. We left mom outside… She went into a proper hamburger shop where the staff don't wear little hats and there is no Table Charge.
The Maid Cafe was, well… Kind of strange. What's the big attraction? I don't know. Just your typical coffee/burger/bun shop ("Bun shop"? Bwa! Ha! Ha! Pun intended!) excepting, as I said, the girls are dressed like maids…
But there was one thing that was weird. We ordered 4 ice coffees. When our waitresses, er, Maid, brought them over to us she made the four of us do some incantation whereby we made heart shapes with our hands and said some chants and then waved at our coffees. She said we did that to make the coffee "more delicious."
Shit! Is THAT how you make instant coffee more delicious? Hell, here all this time I thought the secret to great instant coffee was those little packets of reconstituted petro-chemicals that taste like cream and those sugar substitute cyclamates (that cause cancer) but sure smoothen the taste out for a great cup of instant coffee!
Huh? I wasted money on all that chemical shit when a simple magical spell was sufficient? Who'd a thunk it?
Count this as a lesson learned in life!
Anyway, I think after a few minutes of sitting around the Maid cafe and wondering when something was "going to happen" that didn't, everyone in our party basically came to the same conclusion; "What's the big deal?" and decided to leave. Of course, though, we needed evidence that we had been to a Maid Cafe so that we can prove to our friends back home that we are the highest of the high ranking alpha-geeks because, well simply put, we were in Japan! And well, fricking OF COURSE, because come on, this is Japan! JAPAN! — the weirdest, most zany, most bizarre corner in the entire world –Who wouldn't want to be here? And who wouldn't want to be in a Maid Cafe all the time?
Well … you might not, actually… Because the Maid Cafe was kind of boring… And expensive too… And even when you wanted to take a photo with your "Maid" it costs ¥500 (about $5 USD) per maid, per photo!
That being said, we took one photo with the cutest maid there.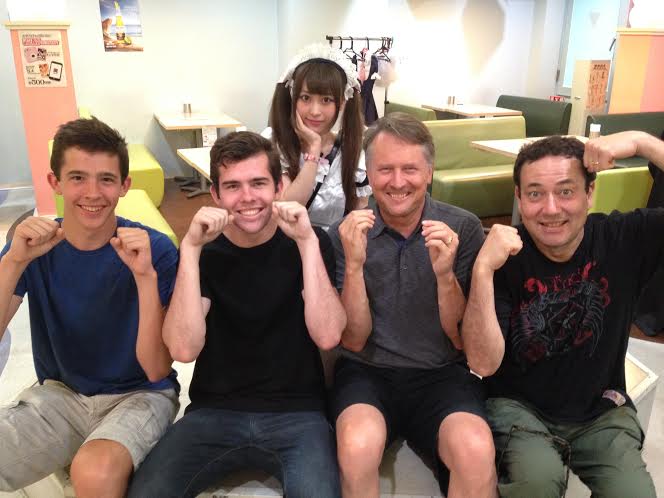 She made us pose in these dumb positions, just like when she brought us our coffee… That's, (left to right) Jacob, Matt, their dad (NAME REDACTED), and me, the Gaijin Gourmet.
Why did she make us pose in dumb positions? Well, why not? This is Japan and this was a Maid Cafe. Don't question the ways of my people!
The photo was definitely worth $5! The coffee, was, well… "Magical."
Thanks to my friends Jacob, Matt, 'Dad,' and 'Mom' as well as Michael McThrow for the inspiration!
——————
Notes: This is so obvious that it doesn't even need to be said, but you'd be surprised at how many guys think they can find a wife at a Hostess Bar or Maid Cafe… Listen guys, these girls are doing a job. The really high class ones are professionals. You won't ever get a "real wife" ever at a hostess bar, or maid club, or Soapland or whatever they call it…. You can get a "pretend wife" or "girlfriend" or even "fiance" (or pretend whatever you want to call it) for a few hours as long as you have the money in your pocket – or credit card – to pay for it. You'd be surprised at how many times – even Japanese guys – have told me they met a girl they really like, who "understands" them…. And that girl just so happens to be working as a hostess…. Of course she understands! She's getting paid $50 an hour to understand you dumb-ass! When you stop paying, she won't give you the time of day!
———————————–
Looking for great deals on cheap eats in Japan?:
Gaijin Gourmet: 「モンスターMOGULLA!東京の地下からこんにちは」 robot55.jp/blog/gaijin-gourmet-「モンスターmogulla!東京の地下からこんにちは/
マイク・ロジャース!「ザ・外人グルメ」!のぐるなび ippin(イッピン)の新しい記事がアップされました!robot55.jp/blog/マイク・ロジャース「ザ・外人グルメ」!のぐる/
Gaijin Gourmet! The Best, Most Delicious Soba Restaurant in Shibuya and Shinjuku robot55.jp/blog/gaijin-gourmet-the-best-most-delicious-soba-restaurant-in-shibuya-and-shinjuku/
Gaijin Gourmet – Hamazushi! Tokyo's Best Robot Sushi! robot55.jp/blog/gaijin-gourmet-hamazushi-tokyos-best-robot-sushi/
Gaijin Gourmet – Sukiya! Japan's Best Gyudon (Beef Bowl) robot55.jp/blog/gaijin-gourmet-sukiya-japans-best-gyudon-beef-bowl/
Gaijin Gourmet Advice for Foreign Gentlemen Living in Japan!
http://robot55.jp/blog/gaijin-gourmet-advice-for-foreign-gentlemen-living-in-japan/
Gaijin Gourmet – Best Soba Chain in Tokyo?Yude Taro and ¥220 Draft Beer?! robot55.jp/blog/gaijin-gourmet-best-soba-chain-in-tokyo?yude-taro-and-¥220-draft-beer/
Gaijin Gourmet: The Best Premium Salad Bar in Tokyo? – Sizzler in Setagaya robot55.jp/blog/gaijin-gourmet-the-best-premium-salad-bar-in-tokyo-sizzler-in-setagaya/
Gaijin Gourmet! Great Cheap and Delicious Soba in Gaienmae on Ginza Line! robot55.jp/blog/gaijin-gourmet-great-cheap-and-delicious-soba-in-gaienmae-on-ginza-line/
The Gaijin Gourmet: The Best Salad Bar Deal in Tokyo at Big Boy – My Favorite Rock N Roll Diner!! robot55.jp/blog/the-gaijin-gourmet-the-best-salad-bar-deal-in-tokyo-at-big-boy-my-favorite-rock-n-roll-diner/
Tokyo's Best Cheap Sushi is in Okachimachi!? 東京の一番安くて美味しい寿司屋?御徒町にあるの? http://robot55.jp/blog/tokyos-best-cheap-sushi-in-okachimachi/
The Gaijin Gourmet: Soba Wars At Hanzomon Station in Tokyo robot55.jp/blog/gaijin-gourmet-soba-wars-at-hanzomon-station-in-tokyo/
———————-
At Robot55 we make video productions for businesses and services and products, but we also pride ourselves on making videos for art and music. Our starting price is ¥70,000 and we are sure we can work out something that fits your budget. Oh, and we love making band videos too! Contact us! contact@robot55.jp
ROBOT55 はビジネス、商業、製品紹介動画の制作のみならず、アートや音楽の映像も創っております。ビジネス動画においてはウェブ動画時代の到来に合わせ、お求めや すい¥70,000という格安価格より承ります。ご予算に応じて皆様にご満足のいく高品質動画を制作致します。勿論インディー・バンド向けPV制作も行っ ております。よ!
コチラよりお気軽にお問い合わせ下さいませ♬
————————-
ザ・外人グルメ, budget, budget dining Tokyo, cheap, Cheap places to eat in Tokyo, delicious, Delicious places to eat in Tokyo, english language video, english video production, Gaijin Gourmet, healthy, inexpensive food, professional, Tokyo dining, ザ・外人グルメ, ビジネスビデオ制作, ビデオ編集格安、ビデオ撮影格安、動画制作東京、格安ビデオ制作, ロボット・ゴー・ゴー, 動画, 動画制作, 動画制作 東京, 動画制作、格安動画制作、ビデオ制作, 動画広告, 広告動画, 格安, 短編映画, 英語のビデオ制作